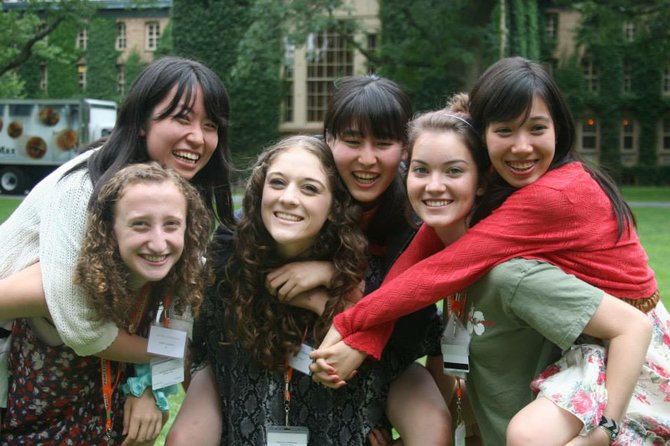 "How to Apply"
The HSD application is now available at highschooldiplomats.com, and all parts must be postmarked and sent by January 8th, 2014. The program runs from July 29 to August 9, 2014. Questions can be directed to Celine Zapolski, the American HSD director, at celinezepolski@highschooldiplomats.com.
"Good morning!" my roommate Ayaka says as she hops out of bed at 6:30 a.m., like she has had 12 hours of sleep. "Ohiyoo goozaimas!" I grumble back, as I struggle to wake up. This is normal for her, since her summer break is only three weeks long, so most days she wakes up at about this time. Ayaka is from the Miyagi prefecture and has chosen to spend her only weeks of summer break in America participating in the High School Diplomats Program. After one and a half weeks of touring Washington, D.C. and New York City, I join her for 10 amazing days at Princeton University for the cultural exchange that only a few select Americans get to experience.
In a time when technology makes the world smaller, it is becoming more and more important to create productive diplomatic relations with other countries.
Many people say that the young generation has the best chance of achieving those diplomatic relations, yet how can we make those connections with people halfway across the world? There is really no better way than to live with people your own age and learn through participation in activities together. High School Diplomats is an opportunity for 40 American rising high school juniors and seniors to participate in an all-expenses paid cultural exchange program with 40 of the brightest high school students in Japan. There is the student from Hiroshima, who says that everyone he knows has an older relative who has been disfigured because of the atomic bombs dropped so many decades ago, the 32th smartest 18-year-old in all of Japan, the girl who is fluent in Japanese, English and Italian because of her heritage, and so many more interesting people. Each Japanese student is paired with an American roommate who is by their side at all times during the program.
After dragging me out of bed, Ayaka and I go to rajio taiso, Japanese stretching and light aerobics that elementary school students traditionally do. After breakfast, it is time for classes, where I get to learn more simple Japanese conversational words and roll sushi while Ayaka learns about American culture. After we join up, I butcher the new Japanese words that I have just learned and she asks me questions about American culture. All through lunch, Ayaka asks me to explain more American slang words to her like "JK," which I learn is the slang word in Japanese for "female high school student," and afterwards we listen to presentations from American and Japanese students about an aspect of one of our cultures, presentations that have been worked on for months before the program between groups of students from all across our respective countries.
Then it is time to change into our clothes for evening activity. Tonight's activity is an American country fair, so we all braid our hair, throw on some boots, and button up our plaid for a night of tie-dying, pie-eating contests, and other activity booths. Other activity days include HSD Olympics, Bunka No Hi (Japanese Culture Festival), and an American homecoming dance. In Japanese culture, there are not many opportunities for social events like in America, so everything that we see as commonplace blows them away. While it is sometimes embarrassing to learn what is "quintessentially American" to people from other countries, it is okay to bite your tongue and watch their eyes light up with wonder at the little things that we may take for granted. As we head back to our dorm on the Princeton campus, Ayaka says "goodnight" to me from the bunk bed below and as I reply with "oyasumi," I only get more excited for the days to come.
The author is a senior at Thomas Jefferson High School for Science and Technology.