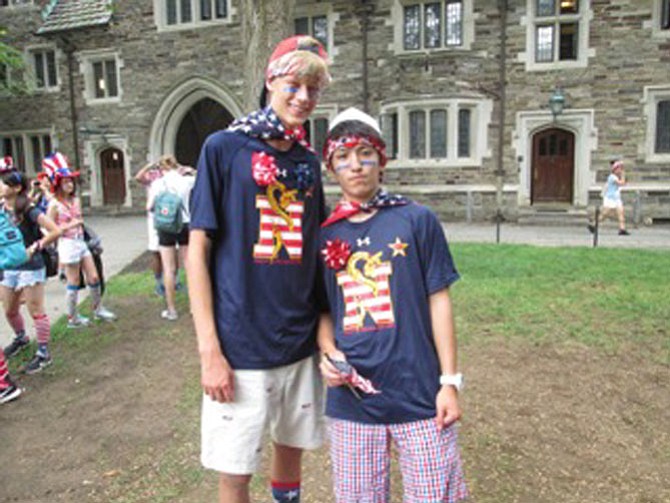 Fairfax County — Last summer, I participated in a program that changed my life. This program is called High School Diplomats. It is a ten-day cross-cultural exchange between 40 American and 40 Japanese students at Princeton. It is completely financed by the Japanese insurance company AIU and the Freeman Foundation. The program gives these students the opportunity to immerse into another culture and establish long-lasting relationships with other students from another country. The staff, all previous members of High School Diplomats, set up dances, activities, and talks for the students to participate in. High School Diplomats does an amazing job of breaking students out of their shell to talk about their worldview.
High School Diplomats pairs up every American student with a Japanese student to be their roommate. Roommates do everything together, including eating, walking, and all activities. This program almost forces you to become close with your roommate, in an awesome way. Most Japanese students speak very good English, so getting by the language barrier was easy for most roommate pairs. If not, then the roommates had to figure out another way of communication. My roommate, Shu, was an extremely caring student from the Chiba Prefecture near Tokyo, who really loved Taylor Swift. Shu and I shared a lot of laughs, experiences, talks, and feelings. Every day there has a theme, so Shu and I dressed up in a lot of amusing costumes together, too.
There is a homestay period, as well, where the Japanese students take a break from touring to come and stay at their roommate's homes for three days before HSD takes place. Because many of the American students don't live in the D.C. Metro area, their roommates stay with another family from HSD. My family hosted my roommate, Shu, and another boy from Japan, named Yuma. We took Shu and Yuma all around the D.C. area, to places including the US Naval Academy, Six Flags, the Mosaic District, Wegmans, and more. The Japanese students had already toured the District of Columbia, so we decided not to take our students there. Japan does not have giant grocery stores there, so we thought it was fun to take them to Wegmans. We also used this time to prepare for the High School Diplomat Program itself.
As I mentioned before, every day has a theme, and many of them are based off of American or Japanese holidays. These days include HSD spirit day, Bunka-No-Hi or Japanese Day of Culture, Independence Day, Rock Star Night, Day of Thanks (Thanksgiving), Halloween, HSD Olympics, and more. The American roommate brings a costume for themselves and their Japanese roommate, excluding the Japanese Day of Culture, which the Japanese student brings an outfit for the American student. Every day Shu and I dressed up in our costumes, which I have to say were pretty sweet. On Independence Day we each had a Naval Academy shirt on with American flag bandanas and socks on. We wore my dad's old Army uniforms for Halloween, and we went country western for Rock Star Night. On Japanese Day of Culture, Shu brought Jimbos for both of us to wear. One day consisted of free day and date night, where the students could explore the town of Princeton with their roommates, and were then paired up with a student of the opposite gender from the other country for date night! This was especially fun because the Japanese students do not have prom or homecoming, so you could see them experience something very new and exciting.
Every day had activities that went along with the costume. At the Japanese Festival we learned about traditional Japanese customs, including dancing, calligraphy, and martial arts. On Halloween we watched scary movies and the staff set up a haunted house. Theme day activities were not all we did every day though. We also had classes and presentations. Every student was paired up with four other students to create a presentation about government, education, regional characteristics, or social issues in their country. My group was assigned to present about government and we explained how our government and political system works. The most interesting thing about the presentations, though, was learning about Japanese life and worldview through their presentations. Many Americans view the Japanese people as very homogenous, but that could not be farther from the truth. Every student is unique and has their own worldview.
We had classes most weekdays, too. American teachers taught the Japanese students, while Japanese teachers taught the American students. I, not knowing any Japanese, was put into the beginner course. Every class is three hours long, with one half of the class consisting of learning the Japanese language, and one half consisting of learning about Japanese culture. The language classes are not hard at all, but they teach the students a basic understanding of Japanese language. The culture class is much more fun, though, because the teachers teach you one aspect of the others culture. I got to learn sushi making, origami, calligraphy, and participate in a traditional Japanese tea ceremony while at these classes.
The most important activity at HSD took place during a day called Paula Chow Diplomat talks. Every student, along with their roommate, was put into a group with other roommate pairs to talk about a specific issue. Last year, being the thirtieth anniversary of High School Diplomats, the issue was US-Japanese relations. They played a series of three videos, each debating a specific issue, and then had the students talk about the meaning of the issue after each video. The first video was about respecting cultural heritage, the second about whether weapons and war is sometimes necessary, and the third was the video of President Obama's speech at Hiroshima. It was very interesting and touching to see the students, both American and Japanese, talking about issues that affect the US and Japan. Hearing Japanese students speak openly about their views on nuclear warfare was especially touching.
Not only did my experience in High School Diplomats teach me about Japan and its culture and customs, but it also taught me about myself. HSD taught me to be more extroverted and talk to people that I don't know. It taught me that people from other countries and culture can be similar to me. It taught me to have an open mind when talking about issues. It taught me that others care about my worldview. It taught me that the Japanese people are not homogenous at all, and that each and every one of them has their own view on issues and problems that face the world today. HSD was the best ten days of my life, and I hope that more students chose to apply to this wonderful program next year.
On top of all of this, the program after HSD, called USHSD, takes twenty of the forty American students from the previous HSD year on an all expense paid trip to Japan. This includes a week and a half of touring around Japan, and a week and a half of cultural exchange. Next year, HSD is taking place from July 25 to Aug. 5, 2017. The deadline for the application is Jan. 8, 2017. For more information about the High School Diplomats program visit: http://www.highschooldiplomats.com/america.php