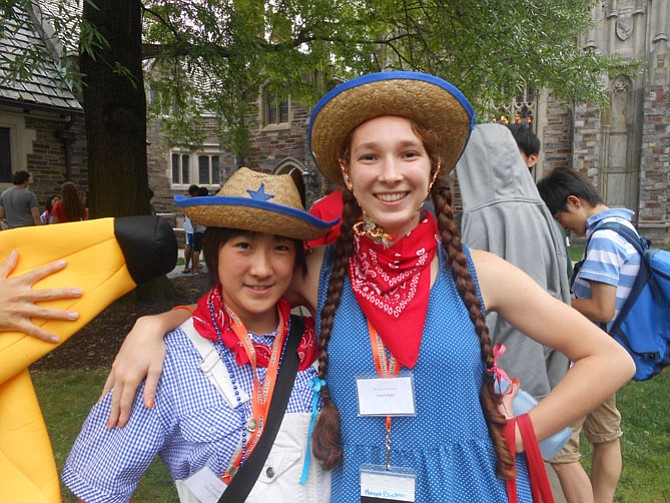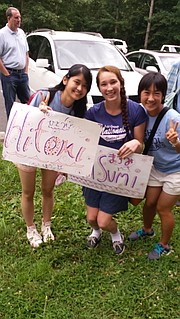 "OK, everybody, I got the call! The buses are coming! I repeat, The buses are coming!"
With those words, an excited cheer rises among the giant mob of American students, our nervousness and excitement feeding off of each other, spreading through the crowd like an electrical impulse. All 40 pairs of eyes are now more than ever focused downhill, at the very end of the street, where we know the buses carrying the Japanese students will soon make their appearance. Seconds later, the unmistakable groan of diesel engines reaches our straining ears before the huge white coaches emerge and begin their journey up the long hill.
A cry goes up from the crowd, and, rehearsed cheers forgotten, we begin to sprint down the hill, letting out uncoordinated whoops of excitement. As the buses approach, our voices raise in volume, the drivers answering our cheers with loud honks. Finally, the coaches pull to the side of the street and we mob the slow-opening doors, the undistinguishable cheering of the Americans now morphing into desperate calls.
"Tatsuki!"
"Yuto!"
"Momoka!"
"Hitomi!" I scream at the top of my lungs, waving my sign high above my head, her name artfully scribbled on it in big purple and blue letters, as the Japanese students begin pouring out of the buses. It's absolute chaos, students frantically weaving their way around each other, desperately trying to find their roommates, 80 different names being called out simultaneously. Hugs, hive-fives, and cries of recognition and ecstatic laughter begin to fill the crowded space. I scramble around the happily hugging roommates, still searching for my friend, calling out her name again and again.
"Hitomi, where are you?" I call again, and this time, receive an answer.
"Margot!" I hear from behind me. I quickly whirl around and come face-to-face with my roommate.
"Hitomi!!" I cry, racing to her as we hug.
NOW FINALLY UNITED with our Japanese roommates, everyone begins to partake in a frantic evening of dashing around and introducing our roommates to each other, remembering faces, butchering Japanese names with our pronunciations, beginning friendships, all the while hardly believing that we were all, finally, here together at Princeton, and that the program we had all looked forward to for so long had finally begun. And while we all knew that it was to be a unique experience, I don't think anyone really understood that first night how much these next 10 days would change us.
This past summer, I partook in an amazing program, High School Diplomats at Princeton University, where both American and Japanese rising juniors and seniors spent 10 days making friendships, learning about one another's cultures, and further developing their leadership skills.
We shared American traditions through Spirit Days; some of my favorite memories of those days included watching a horror movie and learning the Thriller dance on Halloween, going to Prom with a Japanese boy, line dancing on Independence Day, and singing our hearts out on Karaoke Night on Rock Star Day. American students also learned about Japanese culture through daily language classes and other activities. For example, on Bunka no Hi, the Japanese Day of Culture, Americans participated in Japanese games and traditions and even got to wear formal Japanese yukatas in the festival. I especially enjoyed trying sushi and making origami, participating in a tea ceremony, learning both traditional and J-pop dances, and painting Japanese kanji on fans.
One of the most memorable aspects of the program was Diplomat Talks Day, when American and Japanese students discussed global issues such as poverty, gender equality, and nuclear weapons. Throughout the program, students also taught their counterparts about topics relating to their home country, such as regional characteristics, government, education, and social issues, through interactive presentations.
Something that I really loved about High School Diplomats was that it was a remarkably free and accepting environment. Each and every participant was so welcoming and fun, and more than willing to show their crazy side for the Spirit Day activities. At lunch, I could sit next to any student and have a pleasant and engaging conversation. Throughout the program, students made innumerable connections with the other diplomats, regardless of whether they were American or Japanese. And the relationships we formed with our roommates are incredibly special and deep, something that I cannot even begin to explain.
As a bonus, as a student living in the metro D.C. area, I had the option to host my Japanese roommate in my home for the three day pre-program Homestay portion. This was really a wonderful experience, opening up our home to a student from a different country and being her guide to how our American family lives. I also had the benefit of getting to know my roommate before the Princeton experience began, which I found very helpful.
I would highly recommend applying for this program if you are a sophomore or junior who seeks a unique experience in which there is unlimited opportunity for personal growth, new friendships, and further understanding of diplomacy. It is such an incredible and indescribable experience to get to know and make connections with individuals from the other side of the world, to learn about their day-to-day experiences, and to see the similarities and differences between you.
NEXT SUMMER, the program runs from July 28-Aug. 8 at Princeton University. Applications, transcripts, and teacher recommendations must be postmarked by Jan. 7. An interview is part of the final selection process. All 40 American students who are chosen for High School Diplomats receive a full scholarship: transportation, room, board, activities and tuition/fees. For more information, visit www.highschooldiplomats.com and click on HSD in America.