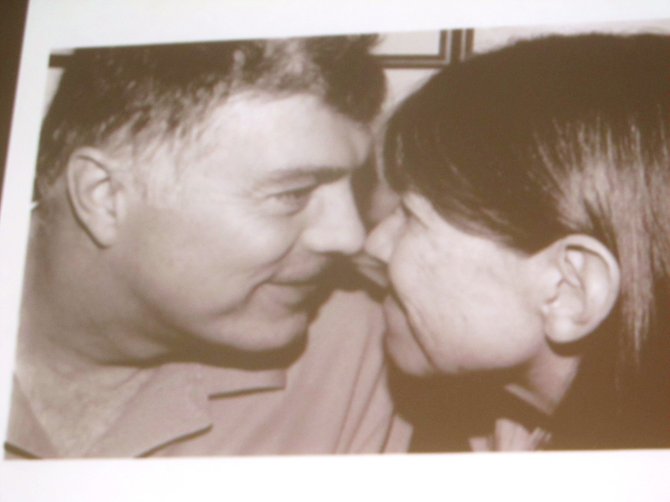 Isabel Bodrog recalled an awkward moment in high school when her friends started complaining about their fathers. When it was her turn to talk about her father, Martin Bodrog, she searched for something to say.
"The only thing I could think of is that the shorts he always wore embarrassed me … " she said, smiling at the memory of the man she lovingly called "Dad-O."
Bodrog's life was cut short when a gunman opened fire Monday, Sept. 16 at the Washington Navy Yard, killing Bodrog and 11 others.
Isabel, 23, delivered one of three eulogies during a Celebration of Life service for her father at Immanuel Bible Church in Springfield on Saturday, Sept. 21.
FRIENDS AND FAMILY remembered Bodrog, 54, for his humor, kindness and devotion to God, his country, his family and his beloved Boston Bruins hockey team.
"A humble, loving father and neighbor, Marty could frequently be seen in all types of weather, even post-blizzard bitter cold, in shorts and his trademark Boston Bruins jersey, walking his dog and helping shovel all the driveways of his elderly neighbors," said The Rev. Steve Holley, Immanuel's pastor of ministries.
In a letter read at the service, U.S. Navy Capt. Jon "J.R." Rodgers wrote that Bodrog is now in heaven, where "you sit in the hockey stands … wearing your Bruins jersey, cheering for God."
During the service, Melanie Bodrog, Martin's wife of 25 years, sat quietly in the front row of the Springfield church with the couple's three daughters: Isabel, 23, a professional photographer and graduate of Liberty University; Sophie, 17, a high school senior and ballerina at W.T. Woodson who performed in the Nutcracker in Washington; and Rita, 16, a high school junior who runs cross-country and rows.
"If Marty were here today, he would be embarrassed by all this attention," said Julius Bodrog, Martin's brother, of the service attended by more than 1,300 family and friends. "He was a humble man … (but) his story deserves to be told."

Although there were 11 years between them, Julius said he remained close with his "younger and taller" brother, who "towered over me by the time we were in a high school."
"He was a big guy, but he always did little things that showed how much he cared about his family and the people around him. He truly epitomized the saying 'a friend in need, a friend indeed,'" Julius Bodrog said.
In an emotional eulogy, longtime family friend Jeff Prowse related the time when Bodrog's family and friends surprised him with a special gift for his 50th birthday: a hockey game at the Verizon Center and a jersey bearing the name of his favorite player, the legendary Bobby Orr.
"I remember he lit up the Verizon Center with his gap-toothed grin. … In that moment, in that place, all was right with the world," Prowse said.
BODROG'S LOVE of the Boston Bruins was a consistent theme throughout the two-hour service, but it was clear his devotion to God and his family outweighed his love of hockey.
"By day, he was a naval warfare officer, but his greatest challenge was on Sunday mornings, teaching 3-year-olds in our preschool," Holley said. "Those of us blessed to know Marty are better people for it."
Isabel said her father always let his family know that he was thinking about them with sweet, simple, loving messages.
In one recent e-mail, he wrote to Isabel: "I'm so excited for what the Lord has in store for you."
"There was the biggest party in Heaven on Monday for my father," Isabel said. "I know I will see him again."