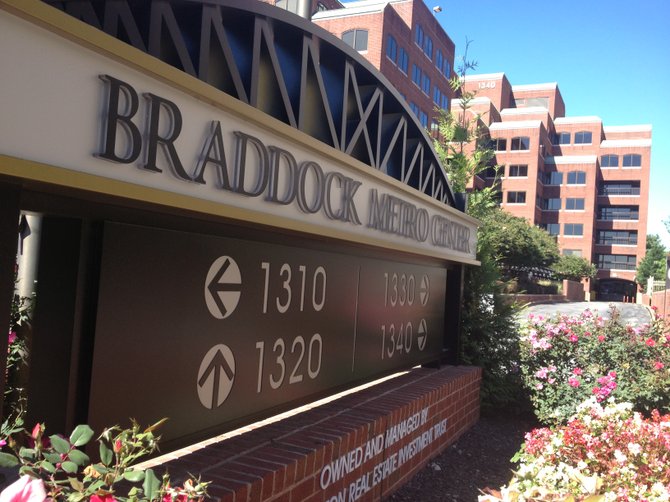 By the Numbers
* Current Rent: The school system currently pays $842,000 a year to rent the office at 2000 North Beauregard St. plus $164,000 to rent space at the former Stonewall Jackson Elementary School plus $53,000 to rent space at Landmark Mall.
* New Rent: Under the terms of a new lease agreement signed earlier this month by School Board members, Alexandria City Public Schools will pay $2.4 million to lease space at 1340 Braddock Place from WRIT Office LLC, a subsidiary of Washington Real Estate Investment Trust.
Right now, the Alexandria City Public School system pays about $1 million in rent every year at three locations across the city — one central administration headquarters on Beauregard Street and two satellite locations across the city. Under terms of a new agreement approved by School Board members earlier this month, all 220 employees of central administration will consolidate at one location.
And the rent will more than double.
According to a deal approved by School Board members earlier this month, city taxpayers will be on the hook for more than $2 million every year. School officials say the consolidation will make the central administration more efficient and free up 17 of the 25 full-size classrooms on the third floor of George Washington Middle School
"There's not a lease that's associated with the fact that we are occupying all those rooms on the third floor, but there certainly is a cost," said William Finn, director of educational facilities. "So we will be able to pull all those people into this new location on Braddock Place for use as classrooms because our enrollment is really rapidly increasing in the city."
THE DEAL HAS BEEN in the works for more than a year as school officials have been planning to move out of the central administration headquarters on Beauregard Street, where they lease space from Lafayette Real Estate, which is a subsidiary of Duke Realty. School Board members say they had to guard against potential increases in the rent Duke was going to charge in the future.
"That's what drove us to the consideration of whether or not we wanted to stay where we were at or start exploring other locations," said School Board member Bill Campbell. "We absolutely chose the best deal from the standpoint of cost but efficiency and growth and proximity to mass transit."
The new landlord will be WRIT Braddock Office, a subsidiary of Washington Real Estate Investment Trust. The 15-year lease will begin June 1, 2014 and will have two five-year options to renew.
"The move will consolidate operations under one roof to deliver better services," said Kelly Alexander, spokesman for the schools, in an email response to questions. "It will make central office more accessible to larger number of constituents, reduce the price per square foot, vacate facilities that are needed by the city of Alexandria and were considered short-term options."
USE OF SPACE at the Burke Branch Library, for example was seen as a temporary solution when the school system made the arrangement with city officials. School leaders say they located employees there as a short-term fix while they figured out where they would be moving central administration staff. They also rent space from a building that used to be Stonewall Jackson Elementary School, a building the school system sold back in the 1970s and leases to handle the capacity crunch.
"Several decades ago, we actually had more students than we have now," said Finn "But unfortunately many of the schools we had were turned over."