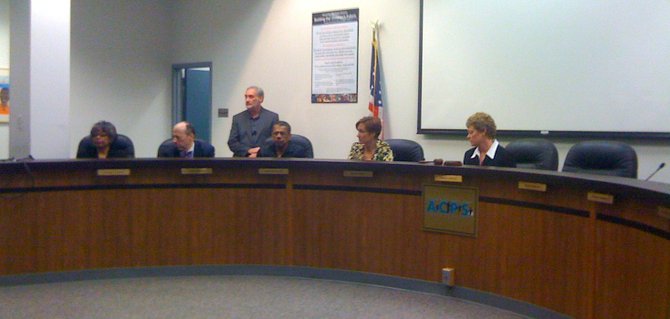 The past few years have been chaotic at the Beauregard Street headquarters of the Alexandria City Public School system, which has struggled to cope with failing test scores as a parade of administrators have come and gone. The drama reached a crescendo earlier in March when an accountants' report blasted the budget office for having a "dysfunctional environment," prompting Vice Mayor Kerry Donley to call for the resignation of Superintendent Morton Sherman.
Now Sherman is about to get a new boss — seven new School Board members. Unlike the current School Board members, who rushed to defend the superintendent, the newly elected School Board members may take a more critical tone when they are sworn in next year.
"He either has to change or leave," said Bill Campbell, who was elected to District A. "We've got to have the attitude that we are all working together for the good of the children, and that all of our contributions are critically important and I'm not sure that's been consistent with the way Mort has done things here in Alexandria."
When Sherman's contract was under consideration last year, some parents criticized the superintendent for having a hard-charging leadership style that didn't involve enough communication. When he reorganized the middle schools, for example, some parents said they felt left out of the loop as changes were approved and implemented. More recently, some parents at Jefferson-Houston School say they were not consulted before administrators began pushing an effort to extend the school day. The current School Board members extended Sherman's contract through 2015, although now the superintendent with have to deal with a different set of personalities.
"I think it's going to be very different," said Pat Hennig, a former School Board member who is returning to represent District C. "There will be accountability, and there will be transparency. The board will be in charge."
NEW SCHOOL BOARD members will have to face a host of issues, everything from addressing failing test scores at T.C. Williams High School and Jefferson-Houston to dealing with a potentially constrained budget environment created by the fiscal cliff. Perhaps no issue is more vexing than the capacity crunch currently experienced at schools throughout the city. Classrooms are reaching capacity, and school leaders are going to have to find a way to handle the record number of students enrolling in city schools each year.
"Modular units need to be a temporary solution," said Kelly Carmichael Booz, who was elected to represent District B. "We will be looking at expanding schools and building new schools in the next couple of years, but as the more immediate fix, we do need to be looking into modular units to make sure that there's enough space for all the students that we currently have."
Unlike previous years, the new School Board will inherit a budget process that's already under way. That's because the election of board members took place in November for the first time this year. In the past, election of School Board members took place in May. But when Democrats lost two seats on the Alexandria City Council in 2009, the lame-duck members of the all-Democratic City Council moved local elections to November 2012, when record number of Democrats were expected at the polls.
"We could be looking at budget problems depending on what goes on with the federal government," said Justin Keating, who was elected to represent District B. "That could be something that my new colleagues and I have to deal with."
ANOTHER ISSUE the next School Board may have to confront is the construction of six new tennis courts. Students in Alexandria currently have to travel to other school divisions to practice because Alexandria City Public Schools doesn't have the size or the capacity to handle the needs. That means that many students have to leave school early and miss classes. So the school system is planning to build new tennis courts at T.C. Williams or Chinquapin Recreation Center, although the exact configuration is still a matter of debate.
"Personally, I think the more ideal plan would be in front facing King Street," said Ronnie Campbell, one of two current members who will be returning to the School Board to represent District C. "It's easy access to the school and the parking lot is right there. If people want to walk to the meets, the sidewalk is right there."