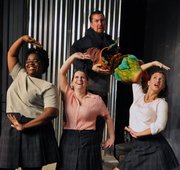 With fresh faces, the Providence Players open the theater season with only the second musical the company has done in its 16 years. It is the brash, bright, delightfully dark musical comedy, "Little Shop of Horrors."
"It was time for us to do a musical, our audiences have asked us to do one that will bring smiles. And, I have wanted to do this show for quite a while," said Chip Gertzog, director of "Horrors." "We had an open audition call and attracted so many talented newcomers appearing in the cast."
Where and When
Providence Players of Fairfax present "Little Shop of Horrors" at James Lee Community Center Theater, Falls Church. Performance dates and times: Thursday, Friday and Saturday 7:30 p.m. Oct. 4, 5, 10, 11, 12, 17, 18 & 19, Saturday & Sunday matinees 2 p.m., Oct. 6, 12 & 13. Tickets: $20-$23. Call 703-425-6782 or visit: http://www.providen…">www.providenceplaye…. Note: This show contains some strong language.
"Little Shop of Horrors" is a take-off of those delightful 1950's horror films often seen on television around Halloween. It is totally tongue-in-cheek. It follows the misadventures of Seymour, a nebbish floral assistant who craves for the girl of his dreams, and escaping his lonely life. He discovers an exotic plant with a peculiar appetite, becoming a sensation. But strange things happen as the plant, "Audrey II" grows and grows. Then, choices must be made, similar to selling one's soul to the Devil.
"Little Shop of Horrors" is by composer Alan Menken and writer Howard Ashman. It is one of the longest-running off-Broadway shows of all time.
To Susan Kaplan, assistant director, the production has a great combination of cast and crew to make the complex singing, choreography, live music and technical details come together. "It is a fast paced, energetic, good fun show."
"It rocks" is how Madalaine Vander-Linden, the musical director, describes the "Horrors" score. She is a veteran in the area working with the Aldersgate Church Community Theater. She has put together a driving, up-beat, seven-piece band. At a recent rehearsal Vander-Linden riffed some of the score filling the theater with great echoes of sound.
Newcomer Becca Harney, GMU, 2011, plays Crystal, one of the three downtown girl group singers reminiscent of the "Bop sh-bop" groups of the early 1960s. "It's a delightful dark musical played with such a big smile. We all just love to sing the great tunes."
Mike Khatcheressian, West Springfield High School, 1993, first saw the show 25 years ago as his Uncle was featured in "Horrors" as Mushnik. It turned him on to the musical theater. Now, he gets to play the same role, "a great thrill" for him. The voice role of the rather ill-tempered Audrey II plant goes to Tom Mirenda, a real life botanist with the Smithsonian.