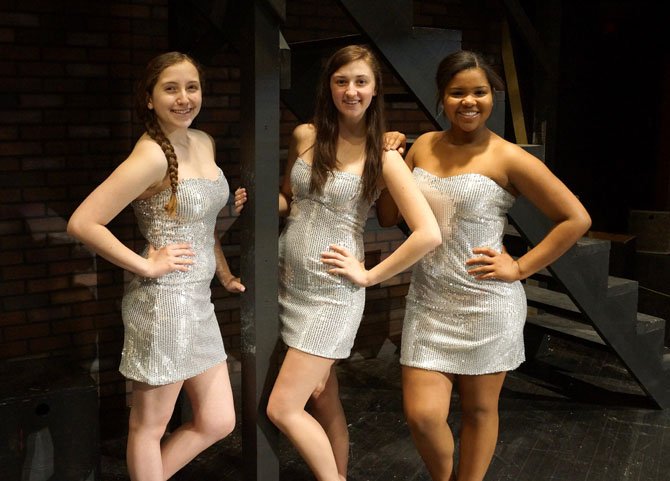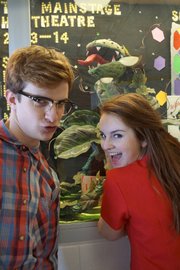 Chantilly — A musical about a man-eating plant is Westfield High's Cappies show for 2014. The curtain rises on "Little Shop of Horrors" May 2-3 and May 9-10 at 7:30 p.m. and May 4 at 2 p.m.
The cast and crew of 40 has been rehearsing since February, and Director Shannon Lynch says things are going great. Besides the regular actors, she's especially excited about Eni Oyeleye, who gives voice to the plant.
"It takes a tremendous personality to have that kind of comedic timing and deep, sultry voice to portray this plant," said Lynch. "It's a smart, savvy, New York Harlem, soulful, streetwise voice that's hard to find in Northern Virginia, so we're lucky to have him."
She's also pleased with Stephen Cox, who designed the plant, is one of the master builders and also the puppeteer. "It took a lot of bold, creative vision and innovation to come up with the design," she said. "And everyone involved has worked hard on it."
"'Little Shop of Horrors' is an everyman's musical about down-and-out people and an underdog [Seymour] who has an opportunity to make a difference," said Lynch. "Aside from being entertaining and fun, it has a more realistic and honest ending. So there's a strong moral and an ethical question posed to the audience members about what they'd do if they were in Seymour's shoes."
Senior Brandon Sanchez designed the set to look like a gritty, early 1960s, Brooklyn Ghetto. "It'll also have the feel of an off-kilter comic book," said Lynch. "We're making this PG-13 show like an over-the-top 'B' movie, absurd and exaggerated. We're keeping the dark, twisty, seedy elements, but with fun and energetic music to maintain the musical comedy."
Seymour works in a florist's shop on skid row and loves his co-worker, Audrey, who's involved with an abusive boyfriend (Sanchez). Playing Seymour is senior TJ Vinsavich. "He's shy, awkward, a people-pleaser who does what people tell him," said Vinsavich. "He was an orphan until the shop owner, Mushnik, took him in, so he's not confident and lets people walk over him. But he slowly gains a backbone and starts growing as a person."
Vinsavich enjoys his role because of Seymour's growth and inner conflict about what the plant forces him to do. "He realizes what he's doing is morally wrong," said Vinsavich. "But he's not used to overwhelming success, so he lets it get to him."
His favorite number is "Feed Me" because "it's really passionate and you see the biggest change in Seymour's character. It ends strong and emotionally awesome, with a big crescendo of energy as Seymour makes an important decision." Vinsavich said the audience will relate to and feel for all the characters. "They'll like the songs and dialogue, too," he said. "It's well-written and funny, so they'll enjoy the whole show."
To Go
Westfield High presents its spring musical, "Little Shop of Horrors," Friday-Saturday, May 2-3 and 9-10, at 7:30 p.m. and Sunday, May 4, at 2 p.m., in the school theater. Tickets are $10 in advance at www.westfieldthea... or $12 at the door. Tickets with valid student IDs are $10 in advance and at the door.
Junior Samantha Dempsey portrays Audrey. "She's lovable, sexy, ditzy and a dreamer," said Dempsey. "She wants to have a normal, happy life with a husband and kids. I love playing her because she has a New Jersey accent, is so innocent and open-minded and has a big heart."
Dempsey especially likes Audrey's main song, "Somewhere that's Green," because "it's the first time the audience sees her dreaming about what she really wants in her life. But people will like all the songs and the story. It's a little scary, but not terrifying — the comedy makes up for it. And the costumes are unique to each character."
Senior Selena Clyne-Galindo plays Crystal, one of three Doo Wop Girls called the Trashettes — who act as narrators and are also background singers and dancers. "She's the knowledgeable one," said Clyne-Galindo. "They're all sassy and upfront, but Crystal's a little more reserved."
She's excited to play Crystal "because it's like playing myself and messing around with my friends, having fun and dancing." She also choreographed the show with help from Ola Polzar and Meredith Mehegan. "They did the ensemble numbers and I focused on the Trashettes and some of the numbers for the leads," said Clyne-Galindo.
She liked choreographing because "it was fun to see everything come together and look really good. I spent the past four years being taught choreography by other talented students, so it was nice to contribute to a show that way, too."
Clyne-Galindo's favorite song is the title number because "it opens the show, it's upbeat, lets the Doo Wops introduce what's going to happen and is the show's most iconic number." Overall, she said the plant will be amazing, "not just as a prop, but as a character, because Eni has the perfect voice for it."
The other two Doo Wop girls are Estella Massey as Ronette and senior Emily Tobin as Chiffon. Tobin also helped Cox and David Koenigsberg design and build the four, separate plants needed to show its growth. Hardest, she said, was "actually constructing the plants and getting them to work. They're all puppets so we have to make sure all the talking goes smoothly with the movements."
Tobin enjoyed working with her friends and, she added, "I have a fascination with how puppets work, so making one that size and of such intricate detail sounded like fun to me. The tallest plant is 7 feet tall, with its mouth shut. We made it out of PVC pipe and chicken wire and then covered it with papier-mâché."
Regarding the play, she said, "All the actors do incredibly with their characters and bring something unique to each of them, and they're all really talented. I'm hoping people will love the plant and enjoy the music. Overall, it's a really good show and it'll make the audience laugh."