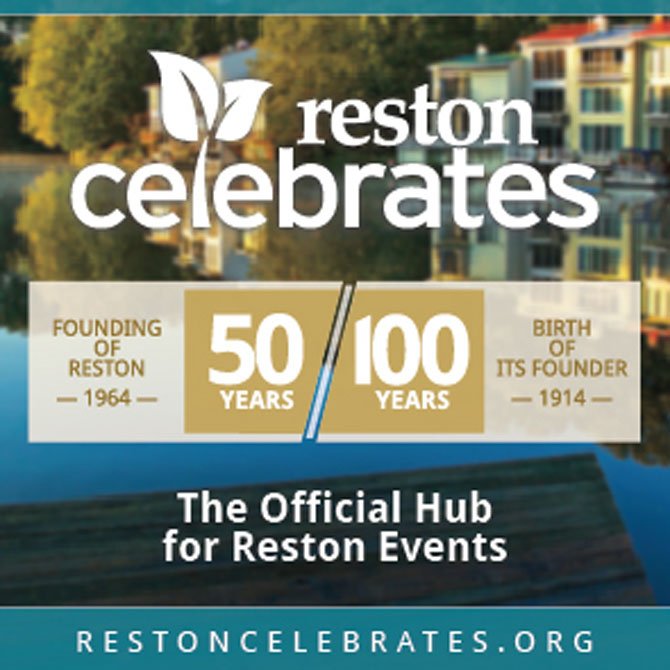 This landmark year of 2014 will honor two very special events in the history of Reston, the innovative, award-winning, planned community and New Town that was brought to life in 1964 by the vision of its founder, Robert E. Simon, Jr. (Bob Simon). The first Reston residents moved into their homes at Lake Anne that year, and 50 years later, Bob Simon is celebrating his 100th birthday in the community he created.
Reston is celebrating with commemorative "50/100" events throughout the year and various organizations in the community are presenting special tributes and celebrations of all sizes beginning in March with a special concert on March 23 presented by The Reston Chorale, the April 5 Founder's Day celebrations, a screening of "The Reston Story" documentary film, and the Best of Reston gala, being held on Bob Simon's April 10 birthday. All events related to 50/100 in 2014 will be listed on www.RestonCelebrates.org, and all those featured will be open to the public, some with free admission, and some requiring ticket purchase.
Participating organizations supporting the 50/100 events are Reston Community Center, Reston Association, Reston Historic Trust/Reston Museum, Greater Reston Chamber of Commerce, Reston Hospital Center/Hospital Corporation of America (HCA), Cornerstones, Reston Town Center, and Myers Public Relations, the host of RestonCelebrates.org.
50/100 Event Highlights
*Reston's 50th: Celebrating the Vision and the Visionary, Sunday, March 23, 4 p.m. --South Lakes High School Auditorium, 11400 South Lakes Drive, Reston, VA 20191
Premiering the specially commissioned work, The Essential Life, by renowned composer Donald McCullough, in a singular performance featuring 100-plus singers accompanied by the Amadeus Orchestra. Presented by The Reston Chorale www.RestonChorale.org
Founder's Day – 50/100: Tributes, Performances, Brick Dedication, Birthday Cake, Saturday, April 5, 12 – 3 p.m. -- Lake Anne Village Center, 1609 Washington Plaza, Reston.
Celebrating the 100th birthday of Reston founder, Robert E. Simon, Jr. and the 50th anniversary of Reston. Free, and all are welcome.
Presented by Reston Historic Trust www.RestonMuseum.org
Reston Anniversary Celebration – A Toast to Reston and its Founder, Saturday, April 5, 8 p.m.; Reston Community Center – Hunters Woods (RCC), 2310 Colts Neck Road, Reston
Enjoy a special private screening of The Reston Story (Working Title). Following the documentary, a panel discussion featuring the film director Rebekah-Wingert Jabi, Reston founder, Robert E. Simon, Jr., and special guests will be held in the Community Room. The evening will conclude with a toast to Simon's 100th birthday and the 50th anniversary of Reston. Limited tickets available: $50 for Reston residents, and $100 for non-residents at the RCC Center Stage Box Office. Call RCC at 703-476-4500 for more information.
Presented by Reston Community Center – Hunters Woods; film produced by Storycatcher Productions TheRestonFilm.com
Best of Reston Gala, Thursday, April 10, 6 p.m. -- Hyatt Regency Reston, 1800 Presidents Street, Reston
Hundreds will gather to celebrate this year's Best of Reston honorees, and the 100th birthday of Reston founder, Robert E. Simon, Jr., who is also the honorary chair of the event. Ticket information is available online – advance purchase required.
Presented by Cornerstones and Greater Reston Chamber of Commerce; http://www.cornerstonesva.org/events_list/best-of-reston/
Many more events are listed, and event submission forms and criteria are available at www.RestonCelebrates.org.