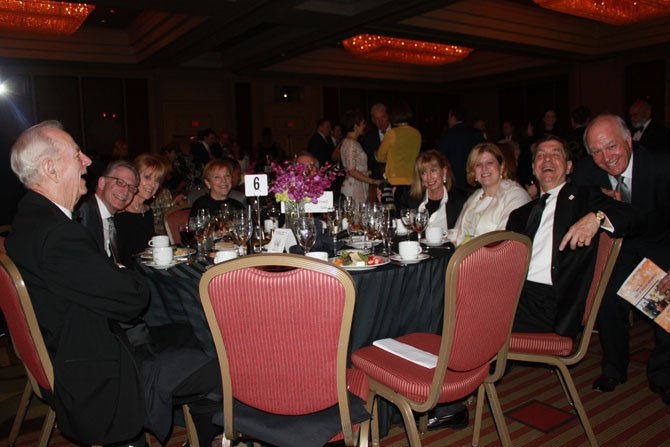 Reston is a place where - as they say - people can live, play, work and serve.
The Best of Reston honored those committed to community service and celebrated founder Robert Simon's 100th birthday on Thursday with a black-tie affair at the Hyatt Regency in Reston Town Center.
The 23rd annual event, hosted by Greater Reston Chamber of Commerce and Cornerstones, reeled in nearly 900 attendees.
"This community takes pride in the people who serve," said GRCC President Mark S. Ingrao. "We've been thinking so much about that in the last few weeks with all the celebrations going on here. I don't know if it's the water in Lake Anne or the secret ingredient in Bob's lunchtime beverage, but there's something about the community that says, 'You are welcome here.'"
THIS YEAR, Carol Ann Bradley, Jerry Ferguson, Cate Lucas Fulkerson, Bonnie Haukness, Davida Luehrs, HomeAid of Northern Virginia, Matt Brennan from Brennan & Waite and Cooley, LLP were awarded for their continuous service to their community.
The night was also the end of a two year joint effort to raise $1 million to double the number of affordable housing units in Reston. After all the money was collected and more donations were given from the floor at the event, Cornerstones found out they had gone over their goal.
The total, $1,178,000, brought Cornerstones CEO Kerrie B. Wilson to tears.
"It's such big money, and it's hard to explain the gratitude to everyone here," she said.
She announced that she just made an agreement to construct 48 more housing units in Reston.
"We intend to tear down the shelter and build more apartments, build more housing," she said.
According to a press release, "the apartment units will provide permanent safe, attractive and affordable housing for working families and families coming out of the Embry Rucker Community Shelter."
Simon, who turned 100 that night, received a colorful cake and more than 800 people singing "Happy Birthday" to him. He was presented with some gifts, including a 100-year-old bottle of wine the same vintage from when he was born.
"World War I had just started in 1914," said Rep. Gerald Connolly (D-11). "Nobody had seen anything like it. They didn't think it was going to last very long, but it completely transformed the world Bob was born into."
However, it was Simon's travels and vision that shaped the cattle pasture that is known today as Reston.
"Bob, you're the reason we're here tonight," said Ingrao.
MORE INFORMATION ABOUT THE HONOREES, according to the press release:
Bonnie Haukness volunteers for Glade Stream Valley and serves in the Reston Historic Trust board, co-chairs the Annual Capitol Steps Performance.

Matt Brennan of Brennan and Waite is a former chairman of GRCC and actively supports Let's Help Kids, Habitat for Humanity and recruits candidates for Leadership Fairfax - among other things.

Carol Ann Bradley is a long time member of the Reston Community Center Board of Governors and a former educator who now tutors elementary students. She also served as president of the National Council of Negro Women.

Cate Lucas Fulkerson is the CEO of Reston Association. She chairs South Lakes High School's annual Ethics Day, chairman for the Reston Character Counts! Coalition board and a mentor for Leadership Fairfax's Emerging Leader Institute.

Cooley LLP has given $1 million in charitable contributions to nonprofits around the country and has been involved in nearly 700 pro bono matters.

Davida Luehrs is a Northern Virginia Chapter Foundation Fighting Blindness, raising awareness after her own diagnosis of degenerative retinal disease. She is also involved with Boy Scouts and Girl Scouts of America, Pride of Herndon Marching Band, Reston Swim Team Association and Northern Virginia Hebrew Congregation Caring Committee.

HomeAid of Northern Virginia has completed nearly 90 affordable housing projects in the area. It also runs the Women Giving Back program.

Jerry Ferguson has made countless videos of local meetings and events as the Fairfax Public Access Director of Development and Community Outreach.