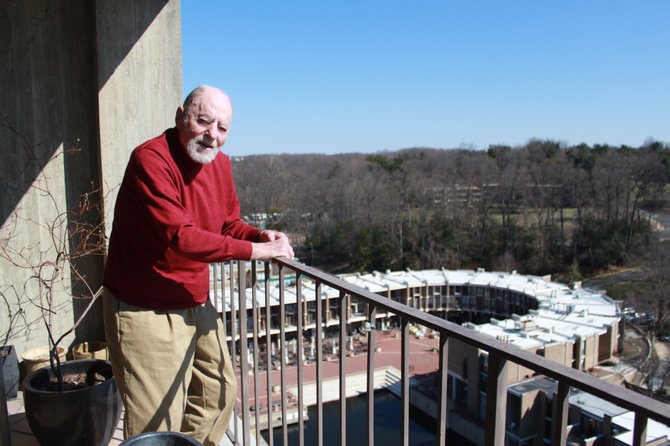 Reston is still Robert E. Simon's town.
The founder of Virginia's first planned residential community is turning 100 - and the town named after him is celebrating its 50th anniversary - this month.
"Community," he said, sitting in Cafe Montmartre. "If you want one word that makes up what Reston is, it's community."
The restaurant is just a short walk from his top floor condo at Heron House, where he can overlook Washington Plaza on Lake Anne - the beginning of his community.
Simon will not become a centurion until April 10, but the community will celebrate his birthday on April 5, Founder's Day. This year is a rare one because Reston is celebrating its own major anniversary milestone as well. Festivities will take place at Washington Plaza from 11:30 a.m. to 2:30 p.m. and end with a lemonade and cake toast to Simon.
When asked about how he feels about turning 100, he just laughed.
"I think it's quite a great thing to manage to survive," he said with a grin. "100 used to be a big deal, but it's not anymore. 110 is a big deal."
Although he has traveled the globe - even into his later years - and has served on boards throughout the community, he is best known as the man who gave a plot of land south of Washington, D.C. a chance - despite all the cattle on the property - and bought it.
Shortly after the land that would eventually become Reston was purchased, Chuck Veatch, a fresh-faced University of Virginia graduate, joined Simon's development in 1964. Before it was Reston - which was created with Simon's initials with the word "town" added to it - it was known as Palindrome Corp.
"The social fabric started when the construction started, so when [homeowners] moved in, they felt like they were a part if it," said Veatch, owner of Charles A. Veatch Co. "It's about building a community, not just a housing development."
His earliest memories of Simon are of picking up his boss from the airport. He recalls having to stop occasionally to allow herds of cattle cross the road.
"My initial relationship with him was that he was the big boss," he said. "It wasn't until 20 years ago that we became very good friends, close friends."
LAKE ANNE was where Reston's opening ceremony was held in 1965. The plaza was packed with ambassadors from all over the world and important federal dignitaries. Newspapers all over the world wrote about Simon's vision for the community and the plazas he hoped to build all throughout the property. However, he did not get to ride fame for too long.
In 1967, he was fired from the development group and sent packing back to Manhattan - where he grew up - by Gulf Oil.
"What happened was we were going full blast and running out of money," he said.
The group made an agreement with Gulf Oil to get a loan to cover some of the debts Reston was quickly accruing. However, when the consultant came, he took Simon's job.
"They said, 'you'll have to leave,' and he said, 'no, you'll have to fire me,'" said Simon's stepdaughter and Reston Museum board member Lynn Lilienthal. "Reston probably would have gone bankrupt if they didn't. We were lucky in a way, but it was brutal."
Many of Simon's visions were kept for the developing community. However, the one he built Reston on did not, he said.
"When I was fired, they did away the idea of the plaza," he said. "There are four village centers here other than Lake Anne, and not one of them has a plaza. It all went out the window."
One of the biggest principles of Reston that did not go away was its progressive nature in a state that was segregated at the time. Reston was one of the only places in the state that had no segregated housing, according to Veatch and local real estate agent Eve Thompson. As long as someone had enough money to buy a home or rent a condominium, they were approved for it.
"That was a major breakthrough," said Veatch. "Reston was a trendsetter, in many ways. It broke a lot of new ground, which is why, I think, it has been revered and studied."
That "breakthrough" brought in people who wanted to be a part of a community like it hoped for.
"Reston has a distinct personality," said Thompson. "It's unique in that is has a very intense sense of place."
SIMON CAME BACK in 1993 because he could not think of a better place to retire than the perfect little community he created, one where he was a short walk away from friends and restaurants. He still thinks about Reston's potential, however. When asked about Simon, most people noted how visionary he still is.
"A lot of older people tend to focus on the past, but he doesn't," said Thompson.
Lilienthal said her stepfather has always been an interesting person.
"I admire his qualities of life and his values," she said. "I think that's what he gave to Reston. It's an opportunity to live an A-plus life."
The piano-playing, globe-trotting, plaza-walking founder whose life is nearing a century still drinks a martini every day and never stops thinking about the future. But he does not wonder what Reston will be like in 10 or 15 years. He looks beyond that.
"Fifty years from now, I hope that the village centers will all conform to one central plaza surrounded by dense urbanity," said Simon. "I hope that we'll have a fabulous bus system connecting people with other places and the metro, and I hope we'll have some iconic buildings."