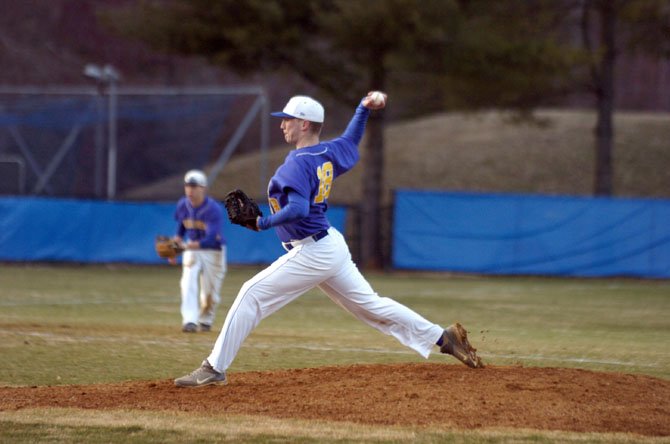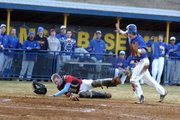 The Marshall and Robinson baseball teams took turns on March 27 capitalizing on each other's mistakes.
Down by two runs in the bottom of the seventh inning, Robinson rallied to ensure Marshall's next miscue would be its last.
Robinson senior Kaden Darrow tied the score with a two-run single and Marshall catcher Mitch Blackstone's throwing error allowed the winning run to score as the Rams pulled out a 6-5 victory at Robinson Secondary School.
Robinson trailed 5-1 in the second inning and 5-3 entering the bottom of the seventh, but found a way to improve to 3-0 with its second consecutive walk-off victory. The Rams defeated West Springfield 4-3 on March 24 and opened the season with a 7-2 win over Woodson on March 22. Marshall fell to 1-2.
"We played five innings, six innings, things weren't really going our way and we found a way to pull it out," Robinson head coach John James said, "and that's a confidence builder."
ROBINSON ENTERS the 2014 season with 10 seniors on the roster, including six athletes in their third year on the varsity --- pitcher/outfielder Chris Lohr, outfielder Adam Sisk, infielder/outfielder Zach Beck, outfielder Tyler Fitchett, pitcher/infielder Danny Herrera and Darrow. That experience paid off in the bottom of the seventh inning as the Rams, who had struggled at the plate for much of the contest, found a way to rally against 6-foot-5 Marshall left-hander Riley Cummins, who will pitch for the University of Virginia.
"We played five innings, six innings, things weren't really going our way and we found a way to pull it out, and that's a confidence builder."

--- Robinson baseball coach John James
Leading 5-3 in the seventh, Marshall head coach Aaron Tarr moved Cummins from right field to the mound to close it out. But Robinson loaded the bases with one out after two walks, a strikeout and a Statesmen error. Darrow's two-run single tied the score at 5 and gave the Rams runners at the corners. During Fitchett's ensuing at bat, Blackstone tried to throw behind the Ram runner at third base, but the catcher's attempted pick-off sailed into left field, allowing the winning run to score.
Blackstone went 3-for-4 with a double at the plate and threw out two would-be base-stealers before his seventh-inning miscue.
"[The runner at third] seemed to me that he was a little farther off the base then most people were," Blackstone said. "I thought I could get [Cummins] a quick out. … [The] ball just got away from me."
Darrow's two-run single put the Rams in a position to capitalize on the error.
"He's been kind of an under-the-radar guy," James said. "He's been a three-year starter here, too, and has been very productive for three years. … He's a utility guy. We put him everywhere in the field. He plays anywhere defensively."
James said experience played a major role in the Rams' comeback.
"Every guy that came to the plate there in the last inning was a senior," he said. "That senior leadership and that experience is invaluable, especially in games like this when our backs are to the wall and they bring in their horse. You've got to have guys that aren't bothered by that --- aren't bothered by the situation and aren't bothered by who is on the mound and they're just going to compete. Our backs were to the wall and they came up big for us."
The Statesmen took a 5-1 lead in the second inning thanks to a Rams error. With the score tied at 1, Marshall had the bases loaded with two outs when Blackstone hit an infield pop-up. Robinson starting pitcher Shane Hopkins dropped the ball in front of home plate, allowing two runs to score. Marshall first baseman Patrick Evans followed with a two-run single, giving the Statesmen a 5-1 advantage.
Marshall returned the favor in the bottom of the fourth. Robinson had the bases loaded with two outs when Statesmen starting pitcher Will Brooke got Robinson senior Herrera to pop up. But Marshall infielders appeared to lose sight of the ball, which fell to the ground for a two-run single, cutting the Statesmen lead to 5-3.
THE PERFORMANCE of William & Mary-bound pitcher Lohr also played a pivotal role in the Robinson comeback. Lohr came on in relief with one on and two outs in the top of the second inning and Marshall leading 5-1. After allowing a single to junior Shane Russell, Lohr picked the runner off first base to get out of the inning. The right-hander went on to pitch 5 1/3 innings of scoreless relief and earn the win.
"In that situation, I just try and pitch like it's the start of the game," Lohr said. "[I needed to] take the runners on base out of my mind and just get the batters one at a time until I get out of that inning and then it's really just inning by inning."
Lohr allowed three hits. He walked one, hit two batters and struck out seven.
"Obviously, he did a fantastic job for us, and that's what we rely on him to do," James said. "He's a senior and he's been with us for three years and that's what he's capable of doing and that's what we need him to do --- is come in and settle things down for us and give us a chance to win and he did."
Brooke pitched well for Marshall but received a no decision. The junior right-hander pitched 5 1/3 innings, allowing three runs and five hits while walking four and striking out two.
Cummins took the loss, surrendering three runs --- one earned --- and one hit in 1/3 of an inning. He walked two and struck out one.
Robinson's Hopkins went 2-for-3 against Marshall. Herrera and Darrow each had a hit and two RBIs, Fitchett had a hit and an RBI, and Will Miller had a hit.
Robinson was travels to face Fairfax tonight at 6:30 p.m.
"We've been running short on regionals for the last few years," Darrow said, "but I have high hopes for this year."