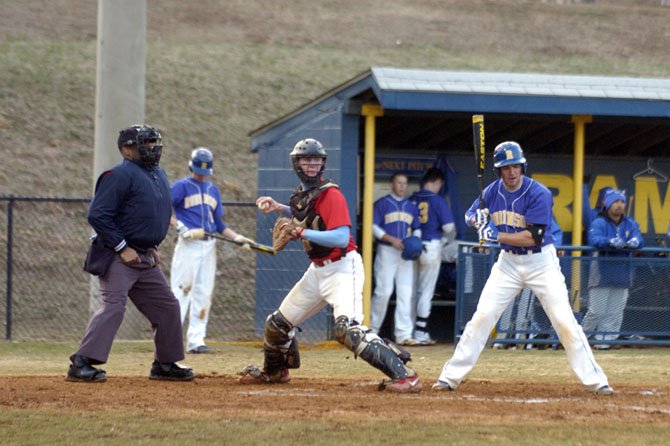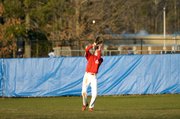 With the Marshall baseball team's two-run seventh-inning lead having vanished, Statesmen catcher Mitch Blackstone tried to make a play.
Marshall and Robinson were tied at 5. The Rams had runners on the corners with one out in the bottom of the frame when Blackstone saw an opportunity to help pitcher Riley Cummins get out of a jam. During an at-bat by Robinson's Tyler Fitchett, Blackstone fired the ball toward third base in an attempt to pick off the potential winning run. Instead, Blackstone's throw sailed high and into left field, allowing the winning run to score.
BLACKSTONE WALKED toward the Marshall dugout with his hands on his head and later had tears in his eyes, disappointed that his error helped the Rams complete their comeback from an early 5-1 deficit.
"[The runner at third] seemed to me that he was a little farther off the base then most people were," Blackstone said. "I thought I could get [Cummins] a quick out. … [The] ball just got away from me."
Robinson beat Marshall 6-5 on March 27, dropping the Statesmen's record to 1-2 early in the 2014 season. Despite the sting of letting one slip away, Marshall's performance indicated how far the program has progressed in the last year.
Marshall lost its first seven games of the 2013 campaign and was 5-13 with one game remaining in the regular season. The Statesmen suffered several lopsided defeats during the rough start, including a 15-4 loss to Robinson. Marshall eventually turned things around, however, winning five of its final seven and reaching the Northern Region semifinals, falling one victory shy of qualifying for the state tournament.
While Marshall last week suffered an early-season loss to Robinson for the second straight year, the Statesmen have put themselves in a position to win games against quality opponents.
"I feel like our program has gotten significantly better and most of that is due to Coach Tarr."

--- Marshall catcher Mitch Blackstone
"Every season, we try to schedule really good teams at the beginning so that we can try to see where we're at," second-year Marshall head coach Aaron Tarr said. "Last year when we did that, it was a little bit of a disaster --- I mean, these guys beat us [15-4]. This year, [it was] 6-5, with us coming out feeling like we let the game get away from us at the end. That's a lot different. It speaks to the strength of the program as it grows [and] that I love their kids, but I love ours, too. That's not always the case, where you can look across the field at a big program and say our kids are just as good as theirs."
Blackstone is one of the main reasons for Tarr's optimism. While the junior catcher's throwing error plated Robinson's winning run last week, Blackstone, in his third year as a varsity starter, figures to provide the Statesmen far more positive moments in the future than negative. Listed at 6 feet 3 and 195 pounds, Blackstone went 3-for-4 with a double against Robinson and threw out two would-be base-stealers. As a sophomore last season, he hit .444 with six home runs, 14 doubles and 22 RBIs on his way to first-team all-Liberty District honors.
"I'm not going to expect him to increase his offensive output because that would be really foolish of me to do and I don't want to apply that kind of pressure," Tarr said. "He had about as good an offensive year as you can have last year. … The defensive elements of his game have gotten a lot better. His arm is stronger, he reads the game better [and] he commands the defense better."
Cummins is the Statesmen's top pitcher. While he had a rough outing in relief against Robinson, the 6-foot-5 senior left-hander, who will pitch for the University of Virginia, figures to bounce back. Junior right-hander Will Brooke is the team's No. 2 starter. He started against the Rams and pitched 5 1/3 innings, allowing three runs and five hits while walking four and striking out two.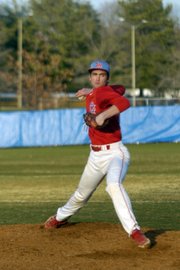 "Unfortunately for [Cummins], he got sick with the flu for like 10 days about two weeks ago, so he's not at his midseason form yet, but we don't worry about that," Tarr said after the Robinson loss. "It gives guys like Will Brooke, who has pitched really well for us in both of his outings, it gives him an opening to demonstrate we've got a really, really good No. 2 guy, if you want to look at it that way. If you've got two guys that you can rely on and some bullpen guys that always get outs, [you will be in good shape]."
Junior right-hander Mark LeDuc is one of the Statesmen's top relief pitchers.
Senior shortstop Alec Dolton is a team captain (along with Blackstone and Cummins) who hit .342 and scored 18 runs last season. He will play for Catholic University.
Junior centerfielder John Bennett and senior first baseman/designated hitter Conor Boyle also figure to be key contributors for the Statesmen.
MARSHALL TRAVELS to face Madison at 6:30 p.m. tonight. The Statesmen return home to face Stone Bridge at 6:30 p.m. on Friday, April 4.
"We definitely have a lot more experience," Blackstone said. "Last year, we were more of a younger team. This year, we've got a lot of talented guys. … Probably not the start we wanted, [but] 1-2 is much better than 0-7. … I feel like our program has gotten significantly better and most of that is due to Coach Tarr. … I think we've got some good potential to do some good things."