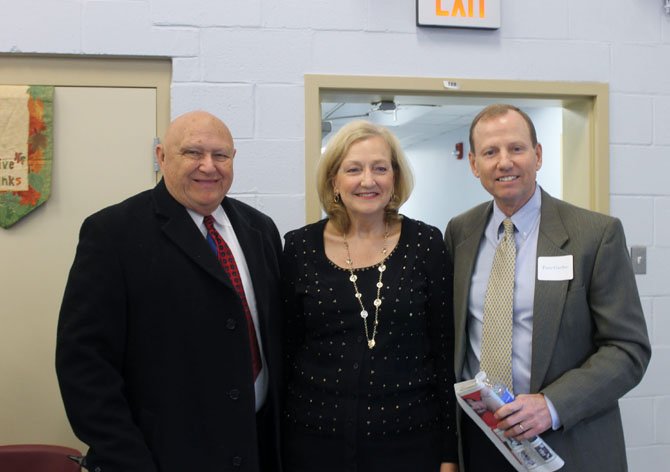 The Fairfax-Falls Church Community Services Board and Alexandria Neighborhood Health Services, Inc. celebrated the integration of primary and behavior health care at the Gartlan Center at the clinic's official grand opening on March 27.
Visitors were able to tour the clinic, which is a collaboration of CSB and ANHSI. Clients of CSB are now able to receive primary and behavioral health care treatment at the same place.
"It may be just a little tiny space with two exam rooms, but this really is groundbreaking and it's important, and it's something to celebrate," said Sharon Bulova, chairman of the Fairfax County Board of Supervisors.
On average, people with a serious mental illness die 25 years earlier than the rest of the population, a 2006 study conducted by the National Association of State Mental Health Program Directors found.
"Many people who have behavior health needs also have difficulty with accessing primary health care, and this clinic is one very obvious way to increase that access," Bulova said.
According to Bulova, the grand opening of the clinic at the Gartlan Center is timely as the Board of Supervisors recently approved a motion that reinforced Fairfax County's support for Medicaid expansion.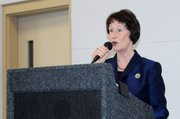 "Fairfax County strongly supports expanding Medicaid and allowing more people to get coverage," Bulova said.
Bulova said people should always be treated holistically, with their primary health care needs in mind.
"Adding primary health services to this busy Gartlan Center site brings a whole health focus which is so important to the successful outcomes for people in all facets of their life," Bulova said.
ANHSI, a non-profit health care provider, provides primary care services at the Gartlan Center on Tuesdays and Fridays, providing a primary care physician, a medical assistant, and an enrollment specialist.
"The integration of primary and behavioral health care is a strategic priority across the country, not just here in Fairfax County," said Pat Harrison, deputy county executive for human services.
Trouble navigating the health care system, health literacy, socio-economic status, transportation and insurance problems are among the reasons those with serious mental illness face disparity in life expectancy.
"Providing health care services to people with mental illness, substance use disorder, and intellectual disabilities is truly a milestone for the human services system," Harrison said.
The new clinic at the Gartlan Center will be a one-stop place where patients can receive a wide range of services.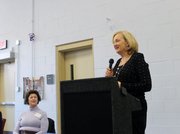 "We know that when people get these needs addressed together, people have better health outcomes, and they live longer and their care becomes more holistic," Harrison said.
According to Harrison, the improved access to health care is a natural addition to the care provided at the Gartlan Center.
"This truly is a collaborative partnership between two agencies," Harrison said.
The partnership has occurred without a grant, which is somewhat uncommon.
Martha Wooten, the executive director of ANHSI, said the partnership with the Fairfax-Falls Church CSB aligns with ANHSI's mission and goals.
"It was a really natural transition to us to be able to see the benefit and recognize the value of moving a primary medical team into a community services board environment where your patient population is comfortable and where we know from all kinds of national data where they are much more likely to access those services and continue in those services once they access them," Wooten said.
ANSHI, which recently opened a new health care center on Route 1 across from the Beacon Hill shopping center, is seeing an increase in patients for 2014, most of whom are visiting ANHSI locations in Fairfax County.
Joan Gartlan, the daughter of the late state Sen. Joe Gartlan and mental health advocate Fredona Gartlan, also spoke at the grand opening.
"Our parents were wonderful and very smart people who recognized many decades ago the unmet needs of those with mental illness, intellectual disabilities and substance use disorders," Gartlan said.
Gartlan said in the 1970s, when her parents began their involvement in mental health advocacy, deinstitutionalization was the major issue of the time.
"We've come a long way since then and this morning's grand opening of the health center is a great example of that," Gartlan said.