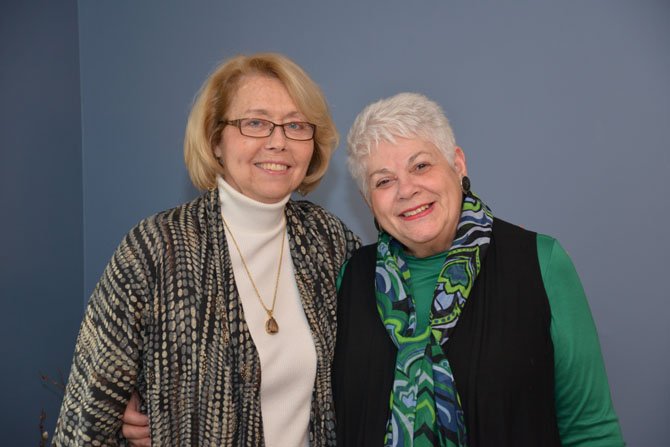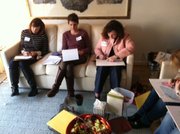 Mary Jo Smrekar of Reston and Sue Ries Lamb of Alexandria are preparing to facilitate their third Women's Collaborative at the Meadowkirk Retreat in Middleburg. What the two describe as a "journey of discovery" for up to twelve women takes place in three four-day sessions. The first gathering will be held from April 17 through April 20. The second retreat will be held on Oct. 9 – 12, and the third Nov. 13 – 16.
Smrekar and Lamb met in 1972, and with a shared interest in exploring their own spirituality and their place in the world as women, they remained friends, and occasionally colleagues, throughout the years since. From 2006 to 2009 they participated in the first Hope Springs Leadership Collaborative and in 2010 they were part of the 35th and last Women's Way Program, garnering experiences that led them to create their own local version of the collaborative in 2011.
"The topics are fairly intense," says Lamb, an Executive Coach who has worked for more than 30 years as an Organizational Development Consultant with organizations from Washington, D.C. to Kabul, Afghanistan. The event brochure sets the stage for the collaborative experience: "Know Ourselves More Fully," "Connect Deeply with Other Women," "Claim Our Personal Power as Women in This World," "Know Where we Stand on Diversity and Social Justice Issues," and "Scout Out the Territory Ahead," are some of the areas the collaborative is determined to explore. To make this work, say Lamb and Smrekar, requires that we "create a container that is safe and strong enough to allow us to be in authentic relationship with each other…appreciate our diversity…being in harmony and community with ourselves, each other and our world."
"What we learn and share really is a continuing journey," says Smrekar. A licensed Clinical Psychologist currently in private practice in Reston, Smrekar has been using her expertise and skills to help people in organizations as diverse as the Peace Corps to federal law enforcement for over 25 years. Apparently the graduates of past Collaboratives agree quite strongly with her statement. With their two mentors as facilitators, some of them created an offshoot from their retreats, dubbed the "Saturday Sisters." "They just didn't want to let the learning opportunities end, or turn into nothing more than occasional coffee meetings," Smrekar noted. "This continuance of the journey is exactly what we hoped for when we started the Women's Collaborative." This group plans to meet every other month.
Ranging in ages from the 30s to the 70s, the participants of the first "Saturday Sisters" met on March 1 and spent several hours re-connecting and discussing issues like "How to Truly Dialogue with People with Different Values," "Forgiveness and Self Compassion," and "How to Say No." The "Saturday Sisters" gathering is also a time for the women to report back on the influence the Collaborative Retreat has had on their daily lives. Stephanie Brown of Fairfax is pleased that her experiences and the support of the collaborative have given her the opportunity to risk doing something she always wanted to do. She is now able to make Graphic Recording her fulltime job. Susan Kilday, also of Fairfax, says that the Collaborative helped her to "learn to be in the present, in the moment," and to help her take her interest in Yoga all the way to teaching it to others. Quite a few of these past collaborators hold upper level positions in large organizations. One of the group informed her "sisters" that the shared journey helped her establish and manage her own boundaries at work and made her a more productive manager. She's pleased that her staff are interested in learning more about her new skills and techniques.
Smrekar and Lamb want to know "Is This Your Year" to join the journey of continuing self-exploration and discovery and developing relationships that could have far reaching and positive effects on your life? Learn more about the Women's Collaborative series at www.womenscollaborative2014.com or contact Mary Jo Smrekar at mjsmrekar@aol.com or Sue Ries Lamb at suerieslamb@mac.com.