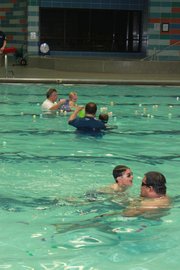 Energetic children splashed about in a pool, frantically grabbing colorful plastic eggs bobbing in the water before time ran out.
Herndon Community Center's Third Annual Aqua Egg Hunt attracted about 80 swimsuit-clad children on Saturday.
"I think it's an opportunity for both the child and parent to do something together," said Aquatic Services Manager Kerstin Severin.
Many of the younger children hung on to their parent's back as they swam the deeper end of the pool - where many of the ungathered Easter eggs were.
Each wave began with the Easter Bunny hopping enthusiastically by the pool, dropping his arm to signal the group of children to splash into the pool and grab as many eggs as they could. Because the suited-up bunny was in a very humid room, he took breaks while the children were in the pool to cool down.
"He can only stand a couple minutes at a time," said pool manager Drew Kreutter. "We're making sure he hydrates really well."
He said 100 children were registered last year, but as long as every child was safe in the water, he considered the event a success. Several lifeguards watched the pool carefully to make sure the children were able to handle the Easter-themed swim.
After each wave, children high-fived and took pictures with the Easter Bunny on the way to get their plastic eggs counted. The child with the most eggs got a big prize, but all of the participants received a goody bag filled with candy and pastel-colored trinkets.
Joe Daly, of Herndon, brought his daughters to the event. He helped 3-year-old Jordan Daly fill her mesh bag with eggs.
"It's something fun for the kids to do," he said. "They enjoy being in the water."
Katherine Burnett drove from Shirlington to see her grandsons Cooper, 3, and Charlie, 1, bubble with excitement as they waited for their wave.
"I'd say he's ready," she said. "He won't take his eyes off the eggs. They're anxious."
Herndon is hosting a more traditional egg hunt on Saturday, April 19 from 9 to 11:30 a.m. at the municipal lawn at 777 Lynn Street. Children ages 5 to 7 will start at 9:30 a.m. Children ages 3 to 4 will start at 10:15 a.m. Those who can walk to the age of 2 will start at 11 a.m. On-site registration is $9 per child.