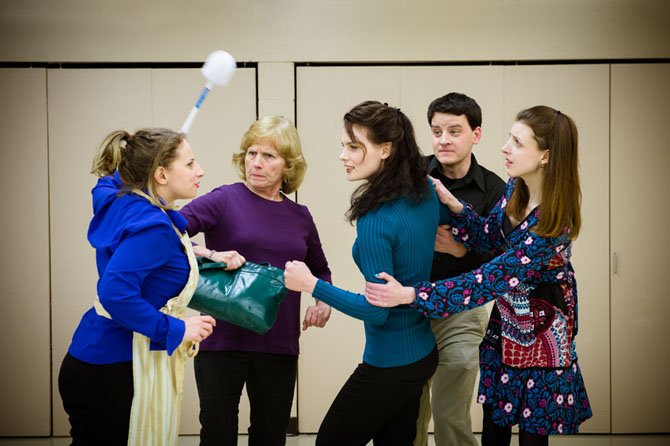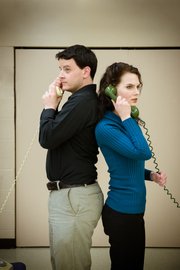 Where and When
McLean Community Players present "Perfect Wedding" at the Alden Theatre, McLean Community Center, 1234 Ingleside Ave, McLean. Performances: April 25- May 10. Fridays and Saturdays at 8 p.m. and Sunday matinees at 2 p.m. Tickets are $14-$16. Call 703-790-9223 or visit www.McLeanPlayers.... Note: Suitable for ages 14 and older. Through a cooperative agreement with The Metropolitan Washington Ear, along with the support of the Alden Theatre, audio description services for individuals with vision challenges will be offered at the May 10 performance.
The well-appointed romantic honeymoon suite in a country estate outside of London is not what it seems. Panic is beginning; it is a wedding day and the bride-to-be is expected to arrive very soon. So, who is the young woman there now? And how did she get there? Is there to be a wedding at all?
Such is the appetizing premise behind the area premiere of Robin Hawdon's farce of "mistaken identities, deceptions, misunderstandings and true love," said Cathy Farnsworth, McLean Community Players (MCP) producer of "Perfect Wedding."
The MCP is always on the "search for shows that have wide audience appeal and challenges for our actors and directors," said Farnsworth. "Perfect Wedding" will do just that with "its fabulously funny plot and dialogue." Hawdon's comedy moves at lightning speed. It has been produced in about 20 countries around the world.
"Perfect Wedding" has an abundance of "slamming doors, concocted stories, mistaken identities and incredible timing as characters run from room to room, being locked in and out of rooms with the skimpiest of explanations and, sometimes, costuming," said veteran director and vocal coach Carol Strachan.
Jessica Inzeo is the bride-to-be. "My character, Rachel, is the 'straight man' of the play. Definitely an A-type personality." Though not one of the comical characters, "in a way, Rachel generates the play--the central conflict being 'Don't let Rachel find out!' "
Carole Steele is Daphne, the mother-of-the-bride. She "yearns for a perfect wedding and gets very emotional when things don't go as planned, which is all the time...Daphne also sings like Edith Bunker with an English accent. Mercifully for the audience, it's just a few lines."
"My character is a chambermaid who has come in to clean up for the wedding party, and winds up cleaning up after them in far more ways than she planned," said Rebecca Fischler. "Although she has no patience with the idiotic situations they've gotten themselves into, she can't resist some nice juicy intrigue, and this lot have enough ridiculous drama for a tabloid."
Cast members Will McLeod, the bridegroom, and Caity Brown who plays a key good friend, agreed that audiences will find that "Perfect Wedding" never has a dull moment. It is a fast-paced comedy with clever dialogue, colorful characters, ridiculous situations, raucousness and great fun.
"Perfect Wedding" is "at once a completely absurd and entirely plausible comedy," added Inzeo. Sounds like real life at times.