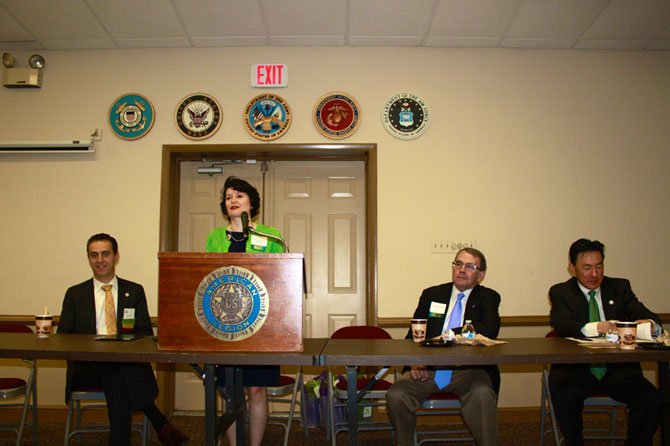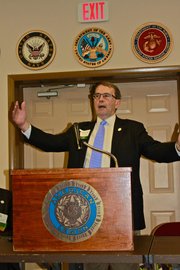 "We can't hold the whole state hostage because some people are wrapped around their ideologies. We'll get there."
— State Sen. Barbara Favola (D-31)
For those waiting for the state budget to pass, don't hold your breath.
According to four elected officials at a Greater McLean Chamber of Commerce General Assembly update April 10, the Medicaid expansion bill will leave Democrats and Republicans quibbling over the budget past the beginning of summer.
"I think it will be past June," said Del. Marcus Simon (D-53) after the breakfast meeting. "I think we may set a new record with this particular budget. There's a rumor that it will be September."
State Sen. Barbara Favola (D-31) said she feels more optimistic and that the budget may pass months before Simon's prediction.
"I think we'll see it done by July 1," she said. "We can't hold the whole state hostage because some people are wrapped around their ideologies. We'll get there."
During his short speech, Del. Bob Brink (D-48) noted that the proposed Medicaid expansion is highly political.
"What do you see as the end game for the Medicaid expansion," PRS President Wendy Gradison asked. "How is this going to turn out?"
Brink said both parties will have to find a "sweet spot" where they can agree on the bill so the budget can get passed.
"This is 90 percent politics and ideology," he said. "The Tea Party is absolutely, vehemently opposed to the Affordable Care Act and the President that supported it."
Brink told the chamber members that the General Assembly meets in early January for their 60 day "long session" - a time to debate on topics and come to an agreement on the budget.
"We didn't finish our work," he said. "We left Richmond not coming to an agreement."
THE GENERAL ASSEMBLY didn't come to an agreement after they met again in March. Brink said after all the years he has been a delegate, he is not surprised. The latest he has seen a budget passed was June 26.
"It's not extraordinary for us to go into extra innings," he said,
However, school districts and local governments look forward to the state budget every year so they have an idea of how to draw up an accurate budget for themselves. With no state budget as of yet, local officials can either hold their budget out or draw up a conservative one.
"School districts need to be able to send out contracts for the upcoming year," said Brink.
Del. Mark Keam (D-35) said politics and policy are especially entwined on race years. He was surprised that some of the bills he thought were more controversial - on storm water management and Standard of Learning testing reforms - were not controversial at all when it came time to vote on them.
"All those issues we thought would be the most controversial, we passed almost unanimously," he said.
Approximately 23 SOL exams were consolidated to 17 exams, he said. Sen. Favola noted that she cosponsored the mental health bill promising a psychiatric bed and longer evaluation process to those who need it.
THE BILL, which followed just months after state Sen. Craig Deeds' son stabbed his father then shot himself, was signed into law on April 8.
Additionally, she said she pushed to have more money sent to Northern Virginia community colleges to expand their dual degree program.
Simon had two bills under his name for his first term in the House of Delegates, which he said was more than he hoped for. One of such bills outlaws revenge pornography.
"My family is not excited that you can Google 'Marcus Simon, porn,' and a while list of links pop up," he said jokingly.
That bill was passed into law in late February.
While he is happy to have made an impact so early, he feels the budget will only pass after the Medicaid expansion is debated for many more months to come.
"Both parties are going to say that they held out for the best deal they can get," he said. "I don't know who's going to blink first."