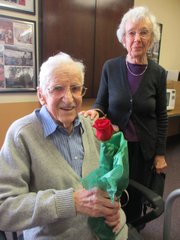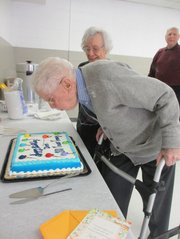 It's pretty extraordinary to turn 100 years old. It's even more extraordinary to maintain one's status as the reigning bridge champ in Vienna's 50-plus Bridge Club which meets at the Vienna Community Center.
Don Elliot, who turned 100 on April 5, was still regarded as the "one to beat" until he played his last bridge hand at the club in late March. The club celebrated his century birthday with a customized cake and the birthday song on Wednesday, April 9.
Don Elliot and his wife Shirley have been club members for 25 years, and have lived in Vienna since 1955. His secret to a healthy, active longevity? Elliot credits his wife. "She took good care of me," he said.
"He's the top bridge player in this club," said Maurice Piller, who has known Elliot for many years. "He's a very congenial, sharp person."
Don Elliot served with the Army Corp of Engineers as a civilian in both World War II in the South Pacific and in Korea during the Korean conflict.
Elliot has the dubious distinction of being named the "Biggest Liar" in the Northwest in 1935. A newspaper, in what Elliot referred to as "Paul Bunyan country," ran a contest looking for the biggest liar and his friends nominated him for the honor.
Nowadays, Elliot uses a walker but is still quick with quips. He talks about his name with two "l"s and one "t," saying he gave an "l" to someone with only one "l" in her name.
If you think turning 100 is impressive, you should know about Elliot's brother living in Minnesota. He turns 106 at the end of April.
— Donna Manz