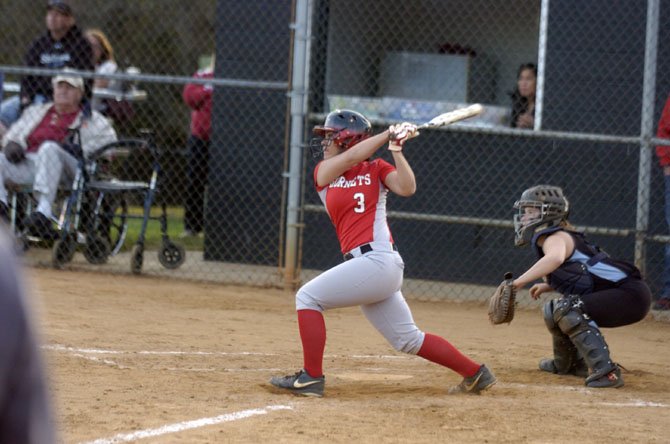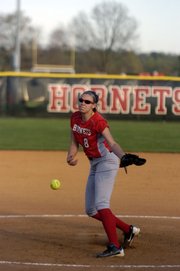 The Herndon softball team showed rust from not practicing during spring break, striking out a dozen times in an extra-inning contest against Marshall on April 21.
While the Hornets found hits hard to come by during their return to the diamond, Herndon made the most of the four they produced.
Catcher Melanie Martire drove in two runs with a double in the third inning and center fielder Mary Dugan plated the game-winner with a single in the eighth as the Hornets beat Marshall 4-3 at Herndon High School. The Hornets won their third straight game after starting the season 0-4.
"It's just what we needed to keep us going," Martire said. "After spring break, [we're] feeling good."
Martire, Herndon's cleanup hitter, had two of the team's four hits. Her two-out double to deep center field in the third inning drove in a pair of runs and gave the Hornets a 2-0 lead. She led off the bottom of the eighth inning with a double that glanced off the shortstop's glove. Two batters later, Dugan's single up the middle gave Herndon a walk-off win.
"[Martire is] everything a coach could hope for in a player," Herndon head coach Amber Kirk said. "… She's very passionate about the game and just a passionate person in general, so that rubs off on the other girls. … She is a player that wants it and she makes the other girls know that she wants the game, she wants to win."
Herndon sophomore pitcher Chase Cooksey delivered a two-out double in the fourth inning, stole third base and scored on a throwing error, giving the Hornets a 3-0 lead.
"It's just what we needed to keep us going. After spring break, [we're] feeling good."

--- Herndon catcher Melanie Martire
While Herndon made the most of its opportunities, Marshall managed 11 hits but left seven runners stranded in scoring position. The Statesmen left the bases loaded in the fifth and seventh innings.
Trailing 3-0, Marshall cut the lead to one with a pair of runs in the fifth inning, including an RBI single by junior Ashley Stern. Center fielder Marieka Pierce tied the score with an RBI single in the sixth, but the Statesmen failed to capitalize on multiple opportunities.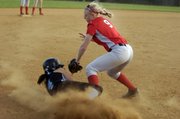 "I thought that they were coming together, they were jelling," Marshall head coach Missy Whittington said. "I just felt like we couldn't get our hits in a timely fashion. I felt like [Herndon's] hits kind of came in a timely fashion."
Herndon senior Katherine Milazzo earned the victory in the pitcher's circle, allowing one earned run in three innings of relief. She gave up six hits and walked three.
Cooksey made her first start of the year in the circle, lasting five-plus innings. She allowed two runs --- one earned --- and five hits, while striking out one.
"I'm really impressed with how she did," Kirk said about the sophomore pitcher. "Her personality, she's kind of more timid, a quieter person on the field, but her performance … just proved she can hold her own out there."
Senior Sarah Kurtz also pitches for Herndon.
"They're all hitting their spots," Martire said, "and that's all a catcher could ask for."
Kirk said junior shortstop Ashley Schnarrs has also played well for Herndon this season.
Last season, Kirk's first with the Hornets, Herndon went 15-5 in the regular season and entered the Concorde District tournament as a top seed, but the Hornets lost to Chantilly in the semifinals. Kirk said the team has its sights set on winning the Conference 5 tournament this year.
While Herndon returned from spring break on a positive note, Marshall had its seven-game winning streak snapped and its record dropped to 8-4. The Statesmen are in the midst of the program's best season since 2010, when Marshall finished 17-8 and reached the region semifinals.
"We're going to be in the state championship on June 14. That's my goal and it's just one … game at a time."

--- Marshall softball coach Missy Whittington
"We're trying to set the bar really high for the girls," said Whittington, who is in her second season as Marshall head coach. "We expect a lot out of them. Our Marshall girls, we're here to play. We've got some really talented players on the team; we've got talented players coming to Marshall. It's not a slam dunk to be on this team as [it might have been] with a smaller school from past years. The population is growing and the competition is getting super."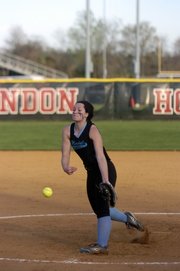 Sophomore pitcher Madison Larsen is a primary reason for the Statesmen's success. After being named team MVP has a freshman, the right-handed hurler has put together another strong season. Against Herndon, Larsen allowed four runs --- one earned --- and four hits in 7 1/3 innings. She walked four and struck out 12.
While dominant at times, she also appeared frustrated with the home-plate umpire's strike zone.
"She has a lot of different pitches and she's just a workhorse," Whittington said. "She's got a really great mindset. You can tell: when she's smiling, she's in the zone. I think tonight a few things took some twists and turns, maybe she just got off kilter. She's one of those you want in there in the eighth, ninth inning."
Sophomore left fielder Celestina Dunavant finished 2-for-3 for Marshall. Larsen, junior shortstop Kat Uher, freshman second baseman Amelia Ely and junior catcher Shelby Thomas each entered Monday's game hitting better than .300.
Marshall enters the Conference 13 portion of its schedule tonight, when the Statesmen travel to face Wakefield. Marshall will travel to face McLean at 6:30 p.m. on Wednesday, April 23, and will host Falls Church on Friday, April 25.
Whittington has lofty expectations for the Statesmen.
"We're going to be in the state championship on June 14," she said. "That's my goal and it's just one … game at a time."
Herndon travels to face Westfield at 6:30 p.m. tonight. The Hornets will host Centreville at 6:30 p.m. on Friday, April 25.