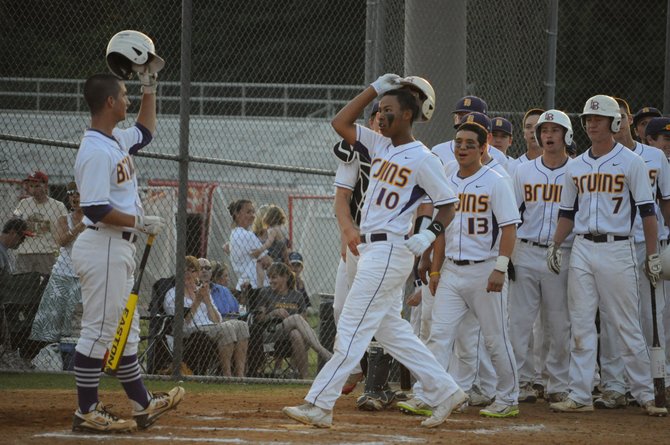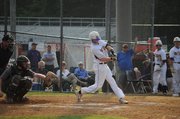 Vienna — A Lake Braddock throwing error gave Marshall an early lead. A two-run homer by Mitch Blackstone gave the Statesmen confidence. And a Will Brooke RBI single gave a team that lost its first seven games of the season a 4-1 advantage over the defending state champs.
The Marshall baseball team was in good shape in the top of the third inning of its Northern Region semifinal matchup against Lake Braddock on Wednesday night at Madison High School. The Statesmen, who at one point had a record of 5-13 before winning five of six to reach the regional semifinals, maintained a lead into the bottom of the fourth inning. But that's when the Bruins proved to be the superior team in a fashion equal parts deliberate and dominant.
Lake Braddock sent 18 batters to the plate in the bottom of the fourth inning, scored 13 runs and pulled away from Marshall en route to a 16-5 victory. The Bruins advanced to the region championship game and secured a state berth. Lake Braddock will face Oakton for the region title at 6:30 p.m. on Friday at Madison.
"There were definitely some nerves," Lake Braddock third baseman Alex Lewis said about Marshall taking a 4-1 lead, "but we did what we had to do. We grinded out at-bats [and] put the ball in play when we needed to."
Joe Darcy led off the bottom of the fourth with a single. Evan Eschenburg reached on a bunt single and Ryan Henderson drew a walk to load the bases. Nick Neville tied the score at 4-all with a sacrifice fly and Jack Owens drove in the go-ahead run with a single.
The Bruins were just getting started.
Like an assembly line, batter after Lake Braddock batter stepped to the plate and reached base. Alex Gransback delivered an RBI single. Garett Driscoll singled in a run, Lewis reached when his fly ball was misplayed in the outfield and Thomas Rogers had an RBI single. Darcy, batting for the second time in the inning, drew a walk and Eschenburg reached on an error before Marshall recorded the second out of the inning.
The Bruins were far from done.
"There were definitely some nerves, but we did what we had to do. We grinded out at-bats [and] put the ball in play when we needed to."

--- Lake Braddock third baseman Alex Lewis
Neville walked to load the bases and Owens followed with a two-run double. Gransback walked to re-load the bases before Driscoll received an RBI for being hit by a pitch. Lewis struck the final blow of the inning, driving in a pair with a single before Rogers flew out to right field to end the frame.
When it was over, Lake Braddock had gone through its batting order twice and taken a 16-4 lead.
"It feels great," Lewis said of getting the victory. "At the beginning of the season, we had a bunch of injuries and everyone was overlooking us. But we're all coming together, we're all coming back healthy and this game was just a huge momentum booster because we knew [Marshall starting pitcher Mike Evans]. He was good and we hit him hard."
Evans pitched three innings for the Statesmen before moving to first base with a 4-3 lead. With Evans off the mound, everything fell part for Marshall.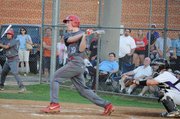 "The biggest [thing] that all of them learned, and certainly I did, is the process and how you do things on a daily basis really does matter," said Marshall head coach Aaron Tarr, reflecting on the season, "because once we figured that stuff out, we started to come together more as a team … and play better. It's just a little bit upsetting that in the end, some of those things that were there at the beginning of the season crept back in and I think it's the enormity of the situation, just like it always is, that forces those things to come out."
Marshall overcame a 0-7 start to the season to earn the Liberty District's No. 4 seed. The Statesmen beat National District champion Washington-Lee and Centreville, the Concorde's No. 2 seed, to reach Wednesday's game.
After Blackstone hit his third-inning home run, the sophomore catcher was confident in his team's chances.
"Right when I hit it," Blackstone said, "I thought we were going to have the game because we had a lot of momentum."
Lake Braddock defeated Marshall 14-3 during the regular season. Head coach Jody Rutherford said the most difficult part of Wednesday's game was bouncing back from Monday's 9-6 quarterfinal win over Madison, which entered the contest on a 22-game winning streak, rather than getting his players to focus on beating the underdog Statesmen.
"The biggest thing was getting them emotionally into the game after such an emotional game on Monday," Rutherford said. "… The importance of the situation and what was on the line in the game was enough to, I think, have guys not overlook anybody."
Owens finished 4 for 4 with a double and three RBIs for Lake Braddock. Driscoll went 2 for 2 with three RBIs and Lewis went 2 for 4 with a solo home run and three RBIs.
Blackstone went 3 for 3 with a double, a home run and two RBIs for Marshall. He reached base all four of his plate appearances.