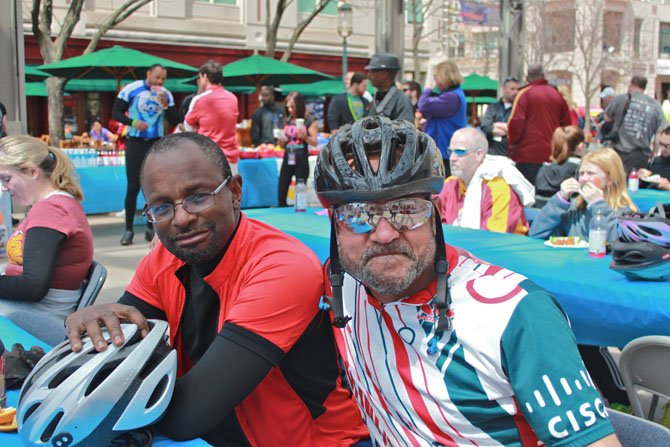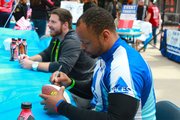 More than 150 people gave up their Saturday morning last week to cycle for a cause.
The fifth annual Ride To Provide, an event to raise money for youth programs and healing military veterans, drew in cyclists throughout the greater D.C. metro area thanks to the balmy weather and a chance to ride with Washington Redskins football players.
Former Redskins player, Lorenzo Alexander, started the program as a way to combine his two passions: cycling and service. He and Kedric Golston hosted the event at Reston Town Center.
"Those veterans laid their lives on the line for us," he said. "Whether we agree what war they're fighting in, they volunteered to go out there and protect us."
Specifically, the event raises fund for Alexander's ACES Foundation, Ride 2 Recovery and Dare2tri Para-Triathlon Club.
Other Redskins football players cycling at the event were Ryan Kerrigan, Antwaan Randle El, Logan Paulsen, Nick Sundberg, Chris Wilson and Kai Forbath.
Registered cyclists could ride 10, 20, 35 or 53 miles on the W&OD Railroad Regional Trail from Reston Town Center out towards Leesburg. At the end of the ride was live music, free lunch and a free autograph session with former and current Washington Redskins players.
Event organizer Priscilla Johnson said the event's attendance has gone up every year except the current year - which remained the same as last year. When they planned the event's date, they did not realize it was the day before Easter.
Still, many of the riders returned after being a part of previous years' events.
Michael Howard, Reston, said this was his second year participating in the event.
"It's for a good cause," he said.
His friend, Sherrod Jefferson, found out about the event three years ago through members at his church. He's been at every Ride to Provide event since. He loves Alexander's commitment to the event.
"Even though Lorenzo left, he still comes back here and does it," he said.
He echoed what Johnson said about the National Football League Pro-Bowler.
"Even though he's in Arizona, he still does events here and his hometown, Oakland, California," said event organizer Priscilla Johnson. "Lorenzo's big into cycling. It's one of his loves."
Alexander said he chose Reston as a place to host the event year after year because of its location.
"I like this area," he said. "It's unique. It's centrally located, too."
George Foster, Ashburn, just returned from his ride in the early afternoon and was ready to have a free meal, hosted by Chipotle.
"It was good," he said about his ride. "I had some problems with my bike, but I enjoyed it."
Richard Greene came all the way from Bowie, Md. to participate in the event. He said he only found out about it recently but took on the challenge anyway.
"I'm training for the diabetes race," he said, talking about another one of Alexander's events. "I just found out about it yesterday."
He said he thought he finished first in his route. He ended up in second, but the event organizers do not keep tabs on finishing times for Ride to Provide.
"This is my first real ride of the season," he said. "I hadn't ridden in eight years. I will definitely be back next year."