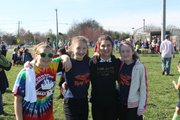 Mount Vernon — Fort Hunt Softball held its Opening Day Celebration on Sunday, April 6, at the Walt Whitman softball complex. Approximately 500 people including players, family members and volunteers from the softball community attended. The party started off with a picnic, games and dancing.
Larry Grey of Village Hardware received the Award of Special Recognition. For over 15 years, Village Hardware has been supporting FHYAA Softball and Baseball by donating pallets of lime and turface — two crucial elements required to make a field playable. In addition, Village Hardware has also consistently sponsored softball teams over the years. "This award of special recognition is long over-due," said FHYAA Softball Commissioner Cindy Jackson. "They consistently give back to the Fort Hunt Community year after year and it was a privilege to honor them this way."
Jim Miller, former Fort Hunt Softball Commissioner, received the Commissioner's Volunteer of the Year Award for 2013. Miller was recognized for consistently volunteering his time to oversee several important programs which will have a positive and direct impact on the overall success of the youth softball program.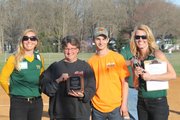 The Presentation of the Teams Ceremony revealed Fort Hunt softball fielding six U9 teams (age 6-9), five U12 teams (age 10-12) and three U18 teams (age 13-18). The presentation was kicked off by introducing the West Potomac Varsity and JV softball teams and was concluded with the National Anthem. The ceremonial first pitch of the season was thrown out by Miller.
Fort Hunt Softball League sponsors include: Fort Hunt Sportsmen, Fischer McMaster Homes, Merkli, Inc., The Moery Company, and Sheehy Honda Alexandria. Opening Ceremony Sponsor was Artman DJs. Team Sponsors are Primo Family Restaurant, The JBG Companies, Dick's Sporting Goods, Hollin Hall Automotive, Sew N'Luv, Physical Therapy Zone, KRIMMG, T&T Keller Williams Realty, and Del. Scott A. Surovell.
FHYAA Softball offers spring and fall softball for girls ages 6 to 18. For more information visit www.FHYAAsoftball.org.