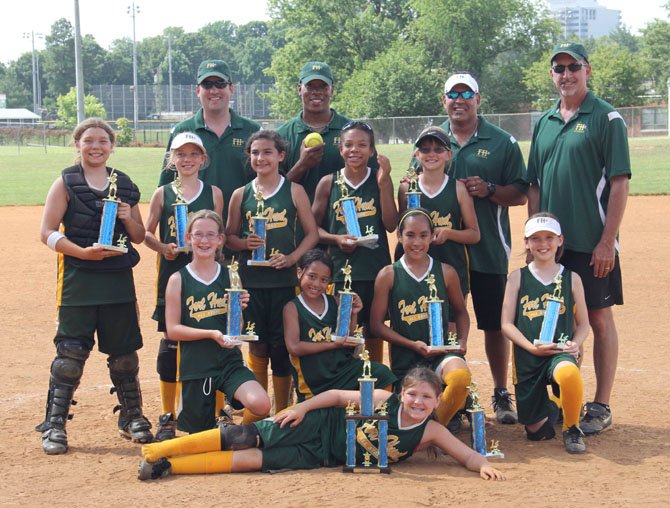 Mount Vernon — This past Father's Day weekend the Fort Hunt Youth Athletic Association (FHYAA) fielded three teams to play in the end of season Fairfax County Girls Softball League (FCGSL) fast pitch softball tournament.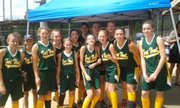 The 10U team ended the tournament by winning the championship game on Sunday and completed the tournament with a 4-0 record. This year's 10U team combined the best players from the Fort Hunt and Mount Vernon softball programs and resulted in a team that won all four games and ultimately crowned 1st place champions.
The team was coached by Daryl Davidson, Craig Stowers, John Daly and John Castillo.
THE 12U TEAM also had a strong showing, finishing the tournament with a record of 2-1-1 and fell just short of the 1st place trophy losing in the championship game 8-7.
In a statement, 12U Head Coach Mike O'Connor said, "The girls did an exceptional job and really came together as a team. We were very pleased to see them have a great time while playing softball to the best of their abilities. Hopefully they came out of the tournament with some great memories and a nice boost to hopefully motivate them to keep working to improve at softball. As we told them after the game every single player on the team was an important part of our success at the tournament."
The team was coached by Mike O'Connor, Bob Aramony and Dale Dorris
THE 18U TEAM fell short of the championship game but still finished the tournament with a 2-2 record. After losing two games on Saturday, the 18U all-stars came back on Father's Day to win both games and end the tournament on a high note.
The team was coached by Jim Miller, Ron Dillard and Tony Magro.
Fort Hunt Softball is a fast pitch softball program for girls ages 6 through 18. This program is organized under the umbrella of the Fort Hunt Youth Athletic Association which has been serving the Fort Hunt community since 1959. See
www.fhyaa.org/softball.