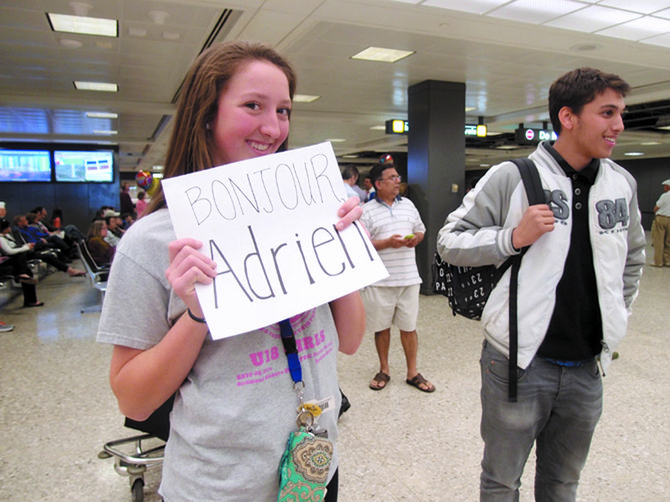 For Monica Jugnet, a French teacher at Robinson Secondary School's International Baccalaureate Program, teaching French is more than just advising students on grammar or learning verb conjugations.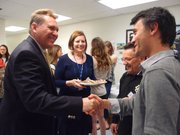 Exchange programs like the one taking place at Robinson this week is what makes learning a language worthwhile, she says.
"This is why we learn a language," Jugnet said. "It's not just for the grammar; it's for the reason of communicating with others and having experiences like this."
And the students agree. They are hosting 23 students and three teachers from Digne les Bains in Haute Provence. From April 20 to May 1, the students are staying with Robinson families, learning about American history and culture while strengthening their language skills.
Christine Schaffrath, a French teacher at Robinson, said the students have been communicating via Facebook and Skype prior to their arrival at Dulles on April 20.
"This program really brings French to life," Schaffrath said.
Victoria Fong and Beige Casey, students at Robinson Secondary School, said on the second day of the exchange program that the experience has been interesting so far. Both students are hosting French students at their homes.
"Yesterday we played video games. That seems to be a universal language," Fong said.
Fong is even taking the French student she is hosting to a Ludacris concert at George Mason during the visit.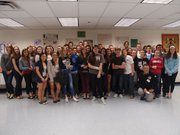 Jugnet has pushed for an exchange student program ever since her husband, who is French, reconnected with his exchange family from Germany at age 54. It's an important connection that she wanted her students to experience.
Robinson students hosting French exchange students this year had the chance to visit France last year, and they loved it.
"The region where these French students are from is just beautiful," said Robinson French teacher Pamela Dister.
Robinson students participating in the program have various levels of fluency in French. The level of English among the French students also varies. This has made communicating somewhat interesting at times, Fong and Casey say. Fong is in IB French, so she is able to communicate more efficiently than some of the other students, and often acts as a translator.
Technology apps such as Google translate have also been helpful, the students said.
The French students are joining their host students for school at Robinson, and are also participating in a variety of excursions in the area. They'll be visiting Mount Vernon, the Crime and Punishment Museum and several Washington, D.C. monuments.
This is only the second time in Robinson's history that the program has taken place. Two years ago, French students visited Robinson. Jugnet, the other teachers and the students hope this is the beginning of a long tradition.