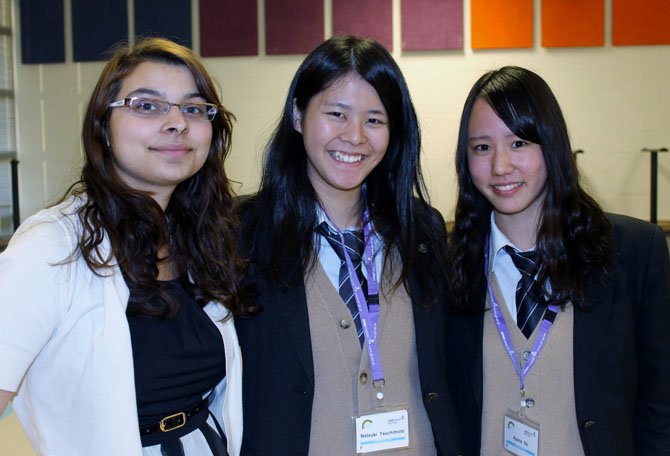 Last summer, 23 students studying Japanese at Lake Braddock, Hayfield and South Lakes High Schools received a full scholarship to visit Japan for ten days as part of the KAKEHASHI Project, a cultural exchange program that aims to connect students from Japan and the U.S.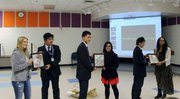 After an exciting and educational trip, students from these Fairfax schools hosted Japanese students visiting the U.S. during the students' trip in March.
To celebrate the exchange of culture and friendship, the three schools hosted an event to celebrate the project at Hayfield Secondary School on March 24.
The Japanese exchange students, who attend Kawagoe High School in Mie Prefecture of Japan, shared lessons on Japanese culture to Fairfax County students, parents and community members. Audience members learned about Japanese food, literature, entertainment, and more.
Fairfax County students also reflected on their experiences in Japan.
"It was a lot of fun," said Safiyyah Nadeem, a senior at Lake Braddock Secondary School. "I want to go back."
Nadeem, along with several other students, hosted an exchange student at her house during the Japanese students' visit to Virginia.
Natsuki Tsuchimoto, a 17-year-old junior from Japan, stayed with Nadeem, and said it was the best part of her trip.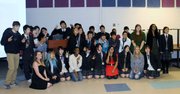 "I love my host family," Tsuchimoto said.
Tsuchimoto and her friend Ayano Ito said they have enjoyed their time in the U.S., especially visiting the Farmers Market in Seattle and the monuments in Washington, D.C.
They've also noticed the differences between U.S. and Japanese culture.
"The houses here are huge," Tsuchimoto said.
The Japanese students said they love American food, especially hamburgers, sandwiches, steak and French fries, and love talking with their host families and students.
"It's a lot of fun being able to talk and do stuff together," Nadeem said.
The KAKEHASHI Project has allowed students from 28 high schools and nine post-secondary institutions to visit Japan since it began in April 2013. The schools in the U.S. then host students from Japan, who visit two major cities and stay with an American family from one of the schools participating in the program.
"It's very impressive to see students come to another land and speak in a target language," said Gregory Jones, the chair of Fairfax County Public Schools World Languages program. "That is exactly what we are trying to do with our students in terms of teaching them and giving them the opportunity to learn other languages and interact culturally appropriate within the target language and within the culture."
Adam Podell, Kyoko Vaughan, and Keiko Abrams, Japanese teachers from South Lakes, Hayfield and Lake Braddock, accompanied the Fairfax County students on their trip to Japan.
"These are all students from very strong Japanese language programs," Abrams said. "After they went on the trip, they are studying completely differently. They are studying much more than before. A lot of them want to major in it in college."
The KAKEHASHI Project has set a goal of sending 47 secondary schools and 24 post-secondary institutions to Japan by the end of March 2015.