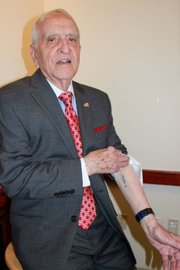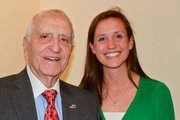 "We promised one another during the march that if you survive, make sure you tell."
— Holocaust Survivor Henry Greenbaum
Henry Greenbaum has more than earned each of the 86 years he has been alive.
He spent five years as a teenager being forced from one concentration camp to another during the Holocaust, losing most of his family before he was finally liberated in 1945.
Greenbaum, born Chuna Grynbaum in Poland, told his story to an audience of nearly 80 people at Great Falls Library on April 23. However, he has not stopped telling his story since the his "death march" from Flossenburg towards Dachau.
"We promised one another during the march that if you survive, make sure you tell," he said.
THE LIBRARY PRESENTATION was organized by Jennifer Flanagan, a senior at Stone Ridge School of the Sacred Heart. She wrote a paper on him during her junior year and was inspired to volunteer at the Holocaust Museum after learning his story. She plans to major in genocide studies at the University of Notre Dame next year.
"The museum wants the ambassadors to reach out to 100 people in their community," she said.
Her paper's subject, Greenbaum, spent his childhood attending school and playing soccer in Starachowice until his father, Nauchem, sent him to work at a munitions factory with his three sisters as protection from a possible German invasion.
The factories did not offer as much protection as the family hoped for. Two months after Greenbaum's father passed away, Nazi soldiers invaded the country. Greenbaum's mother, Gittel, took her children to a nearby farm to avoid the bombing and being sent to the ghettos. Henry and his brother David spent the days picking tomatoes for the farmer.
"All of a sudden, we see a Polish soldier and my brother knew who he was," he said.
His brother ended up running away from the farm with the soldier to escape the country, leaving him, his sisters and his mother behind. David ended up surviving and was reunited with Henry after the war.
He did not spend too long on the farm, however, before his family was forced into the overcrowded Starachowice ghetto. The family stayed there for two years, he said, until his mother and two of his sisters were sent away to Treblinka and killed. Greenbaum and three of his sisters were shipped to a nearby slave labor camp. Two of them died after being murdered for missing work because they had Typhoid.
"One day, I walked in and she was not there," he said about one of his sisters - who he would visit every day at the camp. "I asked the Polish policeman where she went. He said, 'She died during the night. We buried her at the bottom of the stone quarry.'"
He later saw that sister, dead, piled into a truck to be sent to a mass grave, the same "trenches," he said, that he had been forced to dig at the camp.
The last of his sisters was killed during an escape attempt she made with Greenbaum and a Jewish policeman. She died after being shot at that night. Greenbaum had a bullet graze his head, a two inch deep wound that would remain infected until he was liberated.
Until he was sent to Auschwitz in 1944, he had worn the same clothes for four years. In the summers, those in the concentration camps would bath by putting mud all over themselves, then washing it all off.
"In the wintertime, we all got lice-infested because we couldn't wash," he said.
HE REMEMBERS AUSCHWITZ and the Buna-Monowitz camp as strongly - the sight and smell of gray flakes coming down from the sky like a snowstorm after a group of people were incinerated.
"The flesh burning, you could smell it," he said.
He said the infamous Auschwitz was where they took the last thing he had for himself - a name - and tattooed a number on his forearm.
After he was liberated by American soldiers on April 25, 1945, Henry eventually reunited with his brother and a sister who married and immigrated to the U.S. before the war. He was one of the few who survived the Holocaust to have multiple family members who made it through.
Others were not so lucky. After a question and answer period at the presentation, Guta Wolke walked up to his table and pulled back her sleeve, revealing a series of numbers on her own forearm.
"I'll never forget those memories," the 90-year-old resident of Silver Spring said. "It's still painful for me. You never forget."