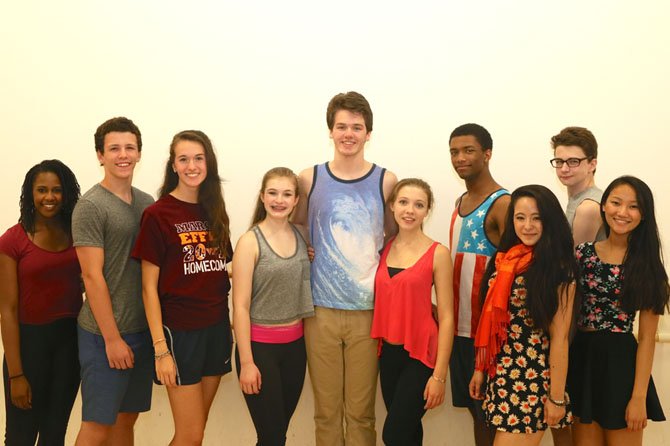 Youthful, unstoppable energy with sharp wit will be filling the Workhouse stage as "Legally Blonde: The Musical" arrives. "We are delighted to have the Metropolitan Performing Arts Theatre company bring its production of the musical 'Legally Blonde' to the Workhouse stage," said John Mason, CEO/President, Workhouse Arts Center.
Where and When
Metropolitan Performing Arts presents "Legally Blonde: The Musical" at the Workhouse Arts Center, Theatre #3, 9601 Ox Road, Lorton.
Performances
Aug. 15 at 7:30 p.m.
Aug. 16 at 2 p.m. and 7:30 p.m.
Aug. 17 at 2 p.m.
Aug. 20-22 at 7:30 p.m.
Aug. 23 at 2 p.m.
Aug. 24 at 2 p.m. and 7 p.m.
Tickets
$20 general admission.
Information and tickets
Visit www.workhousearts.org or call 703-584-2900.
"The talented cast comprises teen-aged performers, many of whom are endeavoring to pursue performing arts as a career path. It's wonderful to see so many dedicated young people pursuing their dreams," added Mason.
Metropolitan decided to produce "Legally Blonde" since there are "so many talented teens in our community thinking about college and their future. We wanted to do a show that was both fun and sent a positive message about how your possibilities are limitless if have the passion and a great can do attitude," said Dan Stapula, production director. The show is just so "full of optimism and spunk."
"Legally Blonde" is based upon the 2001 novel by Amanda Brown and the later hit film. The musical follows the story of Elle Woods as she journeys into self-discovery to find true love and "herself" after she is dumped by her callous boyfriend. Elle gets accepted to Harvard Law and soon enough discovers her talents and true-calling in life; to use the law to help others. She overcomes unsympathetic blonde jokes along the way; all with humor.
The multi-Tony Award nominated show has a book by Heather Hach, Music and Lyrics by Laurence O'Keefe and Nell Benjamin. The show has a score of 20 high-velocity choreographed songs.
With its "big, bold score," said Musical Director Kevin Diana, "the kids have done a great job and sound terrific!" Choreographer Jonathan Faircloth has given the dancers the opportunity to show off their strengths with plenty of good-natured "sass."
Cast member Hank von Kolnitz, Hayfield Secondary School, called the show "very exciting, upbeat, fun...There are no dull moments in the music." Roxy Matten, Robinson High School, said, "Everyone is so much fun to work with...our show is hilarious and just as much fun to watch as it is to perform."
The "big parfait" that is "Legally Blonde" will give audiences the opportunity to "snap it out" as Elle Woods would say. "This is such a fun show...you can enjoy great voices and amazing dancers," said Andie Matten, Robinson High School, inviting everyone to come on out.