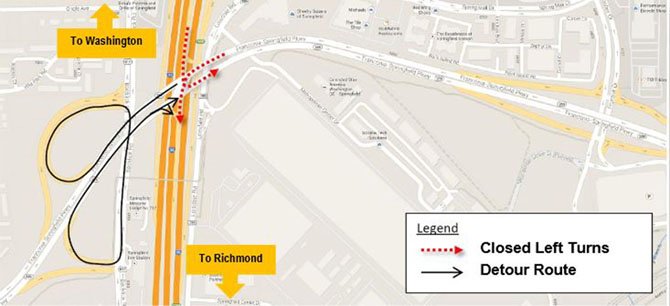 On Aug. 8, or shortly around this date, all left turns from Franconia-Springfield Parkway and left turns to and from I-95 north and south will close to allow for widening of the ramps connecting the I-95 HOV Lanes and Franconia-Springfield Parkway.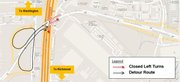 The widening is to accommodate the Express Lanes, construction of which is more than 80 percent complete and is expected to be completed in late 2014. According to officials, the Express Lanes should open in early 2015.
The left turn lanes at Franconia-Springfield Parkway will be closed for about four weeks. Drivers will have to follow a detour and can expect delays up to five minutes during rush hours.
The construction includes adding storm water drainage, widening the ramps, adding turn lands, installing express lanes signage and gates, and more.
Starting in early 2015 when the Express Lanes open, all drivers will be required to use an EZ-Pass to access the lanes. Even motorists driving alone, in a carpool, a slug, or in a vehicle with a clean fuel plate will be required to use an EZ-Pass. Those with three or more people in their vehicles can use an EZ-Pass Flex to ride toll-free.
Residents who plan on using Interstate 95 this summer should prepare for overnight and weekend HOV lane closures from Washington, D.C. to Dumfries as construction continues.
The 29-mile project, a public-private partnership, runs from Stafford County near Garrisonville Road up to 395 near Edsall Road in Springfield.
"While the final phase of construction may be less visible to drivers than in the past, the 95 Express Lanes Corridor remains an active work zone, in which the safety of drivers and workers are our top priority," Susan Shaw, Megaprojects director for VDOT, said at a July press conference. "Now more than ever, it is important for the traveling public to use caution when traveling through our work zone. When you see the orange cones and barriers, slow down for your own safety and remember that there are people working on the other side."