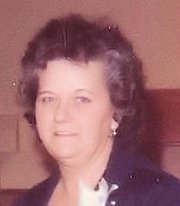 Rose Marie (Crismond, Wood) Worcester passed on Thursday, July 31, 2014 at home in Jacksonville, Fla., with her family by her bedside. Mom (known as MéMé and Gram to her grandchildren) was born in Fairfax on Feb. 9, 1929. Her path in life took her to places such as Chincoteague, Va. and the island of Cuba where one of her children was born. She raised her five children in Rhode Island and later followed her children south to Florida. With love and support she taught her children self-reliance, to respect others and to work hard. Her final wishes were; for her family to always support each other, to remember her "with a kind deed or word to someone who needs you," and to scatter her ashes in the wind to help the flowers grow.
Rose was predeceased in death by her husbands, Robert Wood and Ed Worcester and her youngest daughter, Rebecca Sarber, and youngest son, Ronald Wood. Mom is survived by; her daughter, Roslyn (Shaffer) Panichas, her elder son, Robert Wood, and her middle son Richard Wood and his wife Sandi Wood. She is also survived by her grandchildren; Thomas Shaffer, Crystal Shaffer, Melissa Wood, Ronald Wood, Katie Wood and great grandchildren Korey Shaffer, Justin Shaffer, Geiselle Shaffer, and Jevon Shaffer-McGoogin.
In lieu of flowers, donations may be made to Northeast Florida Community Hospice (http://communityhospice.com/).