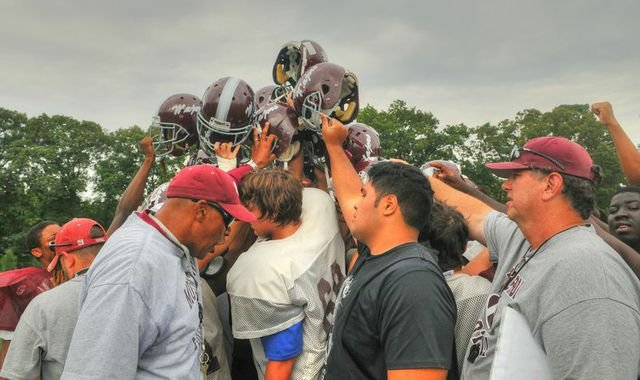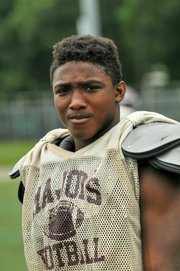 If Bill Adusei-Poku's talents as a wrestler are any indication of what he can do on the football field, the Mount Vernon offense will be in good shape.
Adusei-Poku, a junior, reached the state championship match during his first two years as a high school wrestler, winning as a freshman. He enters the 2014 fall season as the Majors' starting tailback, replacing the graduated Carlton Griffith. In 2012, Griffith set the Mount Vernon single-season rushing record of 1,671 yards as a junior.
"Hopefully I can do better than Carlton did, because Carlton was really good," Adusei-Poku said. "Hopefully [I can] carry on the legacy, because Mount Vernon usually always has a good running back."
Head coach Barry Wells, a fan of the run game during his first four years at Mount Vernon, speaks highly of Adusei-Poku.
"He's a special kid," Wells said. "He's tough as nails. He's got something you can't teach."
Senior Joshua McGrigg could also see time at tailback, but Wells said he likes McGrigg as a slot receiver.
"If you get him the ball in space," Wells said, "he's dangerous."
Adusei-Poku and McGrigg are the primary threats on a Mount Vernon offense that still has questions at the quarterback position heading into the Majors' second preseason scrimmage. While Wells said he would like to throw the ball more in 2014, he must first chose a starting quarterback. Currently, there is a three-way competition between seniors Shahyeim Wellmon, Jordan Artis and Jesus Esparza. Wells said Wellmon is the most physically gifted of the trio, but Esparza looked the best during offseason 7-on-7 competition. Wells said he will make a decision after the Majors scrimmage Freedom on Friday, Aug. 22.
Defensively, Mount Vernon is led by its senior linebacker trio of Tre'Ron Brooks, Christian Abenes and Ernest Ampofo.
"We're all hoping they just all come into their own at the same time," Wells said," because if they do, we'll be in a lot of games."
"We're all hoping they just all come into their own at the same time because if they do, we'll be in a lot of games."

--- Mount Vernon football coach Barry Wells about his linebackers
Nana Asumadu is a standout on the offensive and defensive lines. Senior strong safety Beau Alade, McGrigg and Mohammed Kamara will be impact players in the secondary.
Kalili Tulifua, a transfer from Hawaii, could make an impact as a lineman.
Mount Vernon qualified for the 5A North region playoffs in 2013 despite a 3-7 record. The Majors hung around against Tuscarora in the opening round before losing, 35-27.
"[We] lost by a touchdown to Tuscarora when everybody that was ranked basically where we were got blown out in the first round," Wells said. "I felt like that was a bit of a springboard. The kids know what they can do when they put their minds to it."
Mount Vernon will open the season at home against Edison at 7:30 p.m. on Thursday, Aug. 28.