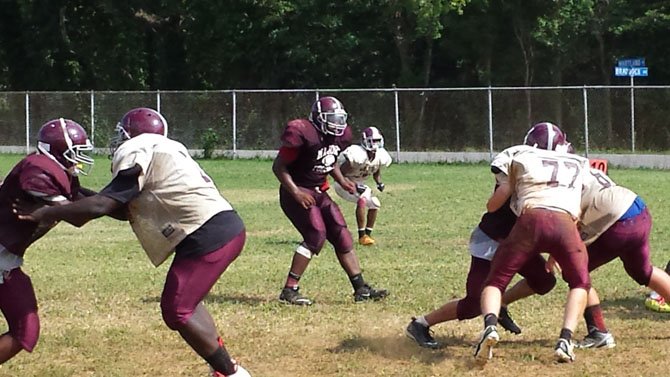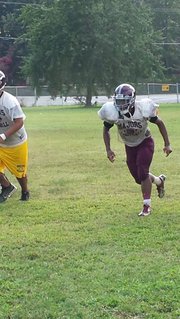 Mount Vernon running back Carlton Griffith set the school's single-season rushing record last year, amassing 1,671 yards on the ground. Now a senior, Griffith figures to be the focal point of opposing defenses, which will likely stack the box to slow the Majors' run-heavy offense.
What motivates a record-holder to keep working hard in the face of an uphill climb? In Griffith's case, it's a fellow Northern Virginia running back who put together an even more impressive 2012 campaign.
"[Robinson running back] Joe Wilson, he was in front of me last year," Griffith said after a recent Mount Vernon practice. "He got 2,000 yards, and I want 2,000 yards, so that's my motivation. [I've] got to be No. 1."
Fourth-year head coach Barry Wells has reminded Griffith of the challenge that lies ahead.
"No one will remember last year if he doesn't do something spectacular this year," Wells said. "It is what it is; it's a fine accomplishment, but he's not going to be a secret anymore. He's going to be a marked man, so he's going to have to work twice as hard."
Griffith will need some help if he intends to reach 2,000 yards and the Majors plan on reaching the playoffs for the first time since 2010. Sophomore running back Josh McGrigg could help lighten the load for Griffith. McGrigg is a track star and a threat to go the distance when he touches the ball.
"You want to get the ball in the hands of the guy that's going to do the most for you," Wells said. "In space, [McGrigg] is a very dangerous, dangerous player. We've got to find a way to take advantage of what he does best."
Senior Brendon Maturey returns for his second full season as the Majors' starting quarterback. Wells said he needs better decision-making from Maturey, whose passing skills could help take defensive focus off the Majors' ground game.
Kurron Ramsey and Greg Smith are Mount Vernon's top receiving threats.
On the offensive line, Wells said the Majors need a big season from 6-foot-3, 320-pound right guard Jacob Allen. The senior also plays defensive tackle.
On the defensive side of the ball, Mount Vernon is moving from a 4-2-5 to a 4-3 alignment, based primarily on the strength of the Majors' linebacking corps. Middle backer Tre'Ron Brooks, and outside backers Jordan McClure and Christian Abenes figure to give the defense a physicality injection.
"[McClure is a] very quiet kid … but he's very smart," Wells said. "Of the linebacking crew, he probably is the most savvy with regard to what we're trying to do scheme-wise.
"… Tre'Ron Brooks is … strong, he's heavy, he's going to fill up the middle and if he comes downhill the way he's been doing it, that's going to be more presence in the middle than we've had during my tenure, so I'm looking forward to that.
"… Christian Abenes is young, up-and-coming [and] strong. [He's] a little slow of foot, but not afraid to get his nose dirty. That's been our problem: getting guys to come downhill and not running kind of away from the flow or running lateral with the flow. [We want players] really stepping in gaps and filling. We hope to be a little more physical at the linebacker position."
Brooks has tried to establish an aggressive mentality with his fellow linebackers.
"I told my linebackers, straight up," Brooks said, "our motto this year is either hit or be hit."
Griffith and Maturey could see spot duty at safety.
Mount Vernon will play in 5A North's Conference 13 after the VHSL's six-class realignment. The conference is composed of teams from the former National, Liberty and Patriot Districts. Joining Mount Vernon is: Thomas Jefferson, Marshall, Edison, Falls Church, Stuart, Wakefield and Lee.
Mount Vernon will open the season on the road against South County at 7:30 p.m. on Aug. 30. The Majors will then face a pair of former Concorde District teams (Herndon on Sept. 6 and Robinson on Sept. 20) before hosting Stuart on Sept. 27.
"We've got a challenging first three games and coming out of those first three games on the positive side is going to really influence how things go for us coming down the stretch," Wells said. "We need the kids to be resilient. If we can steal a game here, steal a game there, we can make things very interesting."