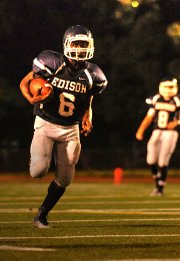 Trailing 13-0 at halftime, Mount Vernon football coach Barry Wells explained to the Majors how they would climb back into Thursday's season opener against Edison.
"I told the kids at halftime, 'Look, we get the ball in the second half, we'll make it a one-score game,'" Wells said. "'It will be a brand-new ball game. We're right back in it.'"
It took until late in the third quarter, but Mount Vernon pulled within one score when quarterback Jordan Artis connected with Jordan McGrigg on a 17-yard touchdown pass, cutting the Edison lead to seven points while giving the Majors an energy boost.
Wells had correctly predicted Mount Vernon would pull within a single score of Edison. However, Moses Kamara wrecked Wells' plans when the Eagles running back snatched momentum right back with a 70-yard gallop into the end zone.
After Mount Vernon cut the Edison lead to 13-6, Kamara broke free for a tide-turning 70-yard touchdown run on the next play from scrimmage, helping the Eagles secure a 26-6 victory at Mount Vernon High School.
"I saw there was an opening," Kamara said, "so I had to take a chance and take a shot and just go right through it."
Mount Vernon drove 59 yards in eight plays to score its only touchdown when Artis found McGrigg in the end zone on third-and-11. Kamara needed just one play to extend the Edison lead back to 13.
"It was a killer," Wells said. "… To let them go 70 [yards] after [pulling within one score] is a backbreaker. As resilient as we want the kids to be, that's asking a lot. We've got a lot of things we've got to clean up on both sides of the ball. I felt like, mentally, we really fell apart."
Kamara finished with 18 carries for a career-high 166 yards and two touchdowns. He rushed for 96 yards and a touchdown in the first half, but his biggest play of the night was his 70-yard scoring scamper.
"It was a killer. … To let them go 70 [yards] after [pulling within one score] is a backbreaker."

--- Mount Vernon football coach Barry Wells
"He found a crease and they couldn't catch him," said Edison head coach Scott Woodlief, who praised the Eagles offensive line. "Do I think it deflated [Mount Vernon]? I really do. They had a really long drive --- they drove right on down, they scored, we got the ball, we scored in one play and it was over."
Woodlief, formerly the assistant head coach at Forest Park, is in his first season as Edison head coach and the Eagles didn't waste any time making his debut memorable. Edison scored on its first two drives, opening a 13-0 lead. Junior quarterback Ben Davenport scrambled for 18 yards on the game's first play from scrimmage. Kamara, also a junior, followed with a 40-yard run. Three plays later, Davenport hit Damien Jones, Jr. with a 9-yard touchdown pass, giving the Eagles a 7-0 lead.
A 56-yard punt return by William Irving gave the Eagles the ball at the Mount Vernon 20 to start their second drive. Three plays later, Kamara took an option pitch and ran 22 yards for a touchdown.
"I told them that this right here would set the tone for the season," Woodlief said. "They came out and they gave everything that they had. I think, tonight, we came a little closer as a family."
Edison fullback Steven Ratliff took a quick-hitter up the middle and raced 59 yards into the end zone for the game's final score with 6:25 remaining in the fourth quarter.
The Edison defense forced three turnovers and sacked Mount Vernon quarterbacks six times. Irving and Ahmad Kohistany each intercepted Mount Vernon's Shahyeim Wellmon once before Wells made a change at quarterback, bringing in Artis in the second quarter. Edison's Reilly Dandridge recovered a fumble in the fourth quarter.
Senior defensive end Tyvez Monroe finished with three sacks for the Eagles.
"He's an athlete that hadn't played football in two years," Woodlief said. "He's a big body that comes off the end and I don't know if there's going to be a whole lot of people that are going to be able to match up to that, so they're going to have to do something to [contain] him and hopefully somebody else steps up when he starts to get double-teamed."
Noah Hiwot had two sacks for Edison and Ceandre Wilhoit had one.
Mount Vernon running back Bill Adusei-Poku carried 20 times for 128 yards.
"He did well," Wells said. "Bill is going to make sure that people have to play us honest."
Wellmon completed 3 of 9 passes for 20 yards and was intercepted twice in the first half. Artis completed 11 of 22 passes for 155 yards and a touchdown in the second half.
Mount Vernon's Joshua McGrigg caught five passes for 82 yards. Jordan McGrigg had six receptions for 54 yards and a touchdown.
Edison (1-0) will host West Springfield at 7:30 p.m. on Sept. 5. Mount Vernon (0-1) will host Herndon.