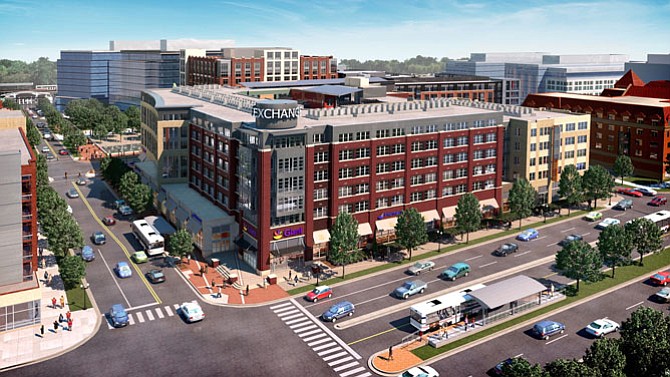 The location is new but be prepared to see many familiar faces at the Potomac Yard Giant grocery store, which opened for business Sept. 4.
"A lot of us came over from the Monroe Avenue store," said Yvonne Haggins, a 13-year employee of the Landover, Md.-based food chain. "The new store is fabulous and I like being able to see my old customers here."
Located at 621 East Glebe Road, the new store replaces the Giant store in Del Ray at 425 East Monroe Ave. store, which is now closed.
At 57,716-square-feet, the Potomac Yard location is three times larger than the East Monroe store and features a pharmacy and Starbucks café. Approximately 150 associates are employed at the new location, including John White, who has been with the retailer for 29 years.
"I came from Annandale to do my grocery shopping here," said White's wife Jessie LeCount-White while shopping Sept. 8. "The store is really incredible — so clean and bright. I love it."
Features of the new store include a newly designed market-style produce section offering a fresh-cut fruit and vegetable preparation center and smoothie bar and large organic produce display. The store also has a full-service deli department with an expanded offering of products, including a service case with Boars Head premium meats and cheeses, a sandwich service center, an assortment of hot foods, a salad bar and a gourmet cheese island.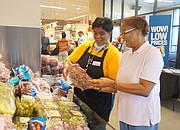 Also available is "Order It," a deli kiosk where customers can digitally place deli orders and continue shopping while their deli order is filled. In addition, the seafood department features a selection of fresh and frozen seafood along with a live lobster tank and sushi freshly prepared by Giant's in-house sushi chef.
An expanded bakery section is located adjacent to the Starbucks café and includes fresh baked products and new muffin cart, bagel bin and bread bar. More than 100 offerings of natural and organic foods, including Giant's own Nature's Promise products as well as many gluten-free offerings are also available. In addition, an expanded international section includes a selection of Kosher, Hispanic, Italian, Irish and Asian goods.
The store also stocks a selection of domestic and international wines as well as an assortment of beer, including craft, domestic and imported. Customers will also find fresh flowers and custom arrangements created by Giant's specially trained florists in the floral department.
A full-service pharmacy is on site and complimentary Wi-Fi is available at the store's Starbuck's Café.
Underground parking is available and is accessible from the parking garage entrance at 2900 Main Line Blvd.
Giant at Potomac Yard also offers shoppers the use of "Scan It!" a hand-held device which allows customers to scan and bag their groceries while they shop to allow for speedier checkout. In addition, the store will include nine mainline registers along with 10 self-checkout centers. A PNC Bank will also be onsite.
"I don't just work in Alexandria, I live here," Haggins said. "This is my neighborhood so it's especially nice to get to know my new neighbors."