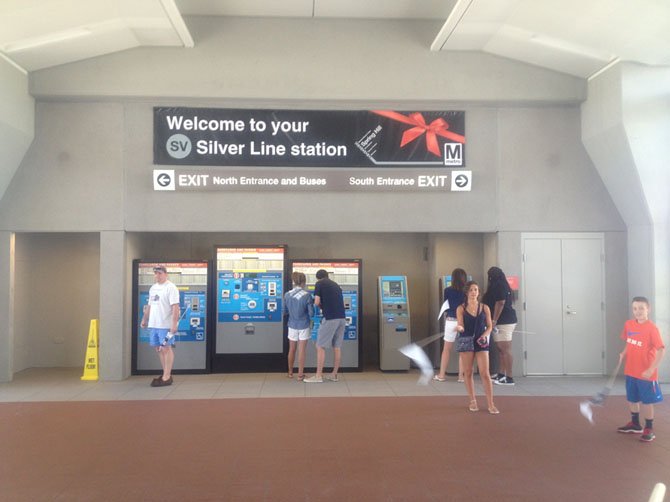 Five Silver Line Metro stations located in Reston and Tysons Corner opened to the public on Saturday, July 26. According to a report provided by the WMATA, approximately 32,147 people entered or exited at one of the five new Silver Line stations that day. The first phase of the Silver Line is a 1.7-mile extension from East Falls Church in Arlington to Wiehle Avenue in Reston. It includes five Metrorail stations: McLean, Tysons Corner, Greensboro, Spring Hill, and Wiehle-Reston East.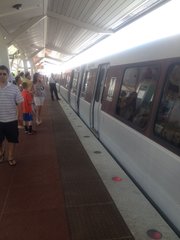 THE PHASE 1 of the Silver Line cost $2.9 billion to construct. The Metro line extension in Virginia is planned to expand an additional 11 miles by 2018, connecting the rail system to Dulles International Airport. Many riders seemed relieved the Silver Line is finally in operation. "I think the Silver Line will be transformative, it is great," said Reston resident Roz Rakoff who rode the Silver Line out to the Spring Hill metro station in Tysons.
"I think the Silver Line will bring more corporate business to the area," said Herndon resident and retiree Charles E. Walker. "My nephew bought a parking space at the Reston station garage." The Reston garage was built as a public-private partnership by Comstock Partners and Fairfax County. The county owns the commuter garage, and Metro will collect parking fees. Rates will be the same as at other Metro garages in the county: $4.85 per day; $65 a month for reserved parking; and $75 a year for using the secure bike room.
Ultimately the Silver Line will extend to the Dulles International Airport and into Loudoun County. Costs are expected to exceed $2.7 billion. "It is so exciting to finally see this critically-important rail link become a reality," remarked U.S. Rep. Gerry Connolly (D-11). "You can sense the excitement in Reston and Tysons as residents and creative-thinkers look forward, envisioning bold projects incorporating smart growth and transit-oriented economic and housing development."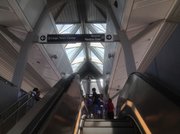 "I think the Silver Line will make transportation issues easier for commuters," said Alex Horwitz, a resident of Fairfax and middle school teacher. "Although the lack of parking at some of the metro locations is bit unusual." There are no parking garages at the metro station in Tysons, but there are bike racks and bike lockers. Wiehle-Reston East is the only Silver Line station with a parking garage. "I think the Silver Line will bring a lot of great opportunities," said Fairfax resident Steven Tricarico, an events coordinator with Comstock Partners.
HOUSING DEVELOPERS are testing to see if metro accessible Tysons will bring in more tenants. Home to two shopping malls and the corporate headquarters of numerous companies, Tysons currently has more stores and jobs than residents. Tysons is effectively Fairfax County's central business district and a commercial center with a population of 19,627 as of the 2010 census. In June 2010, the Fairfax County Board of Supervisors adopted a Comprehensive Plan for a Metro-accessible, urban Tysons with 100,000 residents. The Plan is designed to take advantage of the new Metro stations and by the year 2050 transform Tysons into a walkable urban center.
In April, The Ascent, a 25-story high-rise on 8421 Broad Street welcomed its first tenants. A second building designed by R2L Architects of Georgetown will be constructed by the Spring Hill Metro Station. This location will add another 400 housing units. The project is one of seven planned towers which will be part of the 7.8 million-square-foot Spring Hill Station development.
For more information on the Silver Line, visit silverlinemetro.com.