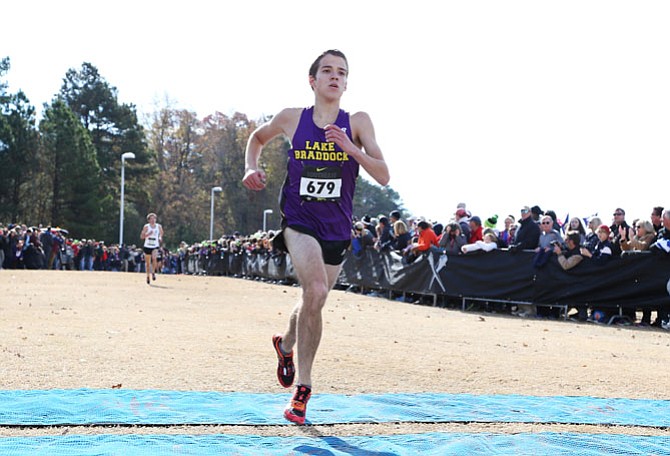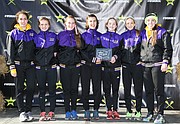 The Lake Braddock cross country program continued its season of accomplishment by qualifying two harriers for Nike nationals.
Senior Alex Corbett and sophomore Kate Murphy each placed fifth in their respective races at the Nike Southeast regional meet on Nov. 29 in Cary, N.C., qualifying the duo for the national meet, which will be held Saturday, Dec. 6 in Portland, Ore.
The top two teams and the top five unattached individuals qualified for nationals.
Corbett placed fifth in the boys' race with a time of 15:00.4.
"He ran great," Lake Braddock head coach Mike Mangan said. "He did exactly what he was supposed to do."
Murphy finished fifth in the girls' race, recording a time of 17:31.6.
"I felt I performed well, but I think if I had had a better start, it would've helped me move up a lot quicker in the race," Murphy wrote in an email. "During the middle of the race, I got myself toward the front, but I think I got there a little too late."
Mangan spoke highly of Murphy's effort.
"She ran a great race --- [her] best race to date," he said. "[She's] only a sophomore [and is] probably going to be one of the best we'll ever have at Lake Braddock."
Mangan said Corbett and Murphy followed the race plan of being patient. Each was between 15th and 20th near the halfway point of their respective races, according to Mangan.
"For both the girls and the boys, we're not a team that goes out super hard at the beginning of the race," Mangan said. "We're patient. … Both of them just kept moving forward as the race went on."
In the team competitions, Lake Braddock finished third in the boys' and girls' races, falling just short national bids. The boys' team missed a trip to nationals by one point.
Severna Park (Md.) won the boys' team competition with a score of 141 and Daniel Boone (Tenn.) finished runner-up with a total of 158.
Lake Braddock finished with a score of 159 and would have had the tiebreaker against Daniel Boone due to a superior time turned in by the Bruins' No. 6 finisher.
"Had we been able to find that one point, the boys would be on their way to Portland," Mangan said. "… [It is] absolutely brutal for the kids. They worked so hard. I really think they deserved one of the at-large bids."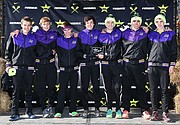 West Springfield finished 12th with a score of 364.
Lake Braddock senior Kevin Monogue finished 15th in the boys' race with a time of 15:25.1. Junior Colin Schaefer took 21st (15:34.3), junior Ben Fogg came in 29th (15:42.7) and sophomore Evan Chase finished 128th (16:26.3).
Daniel Boone senior Adam Barnard won the individual title with a time of 14:44.
In the girls' competition, Blacksburg (Va.) finished first with a score of 86. Green Hope (N.C.) placed second with a score of 106, followed by Lake Braddock (143) and Oakton (176).
Lake Braddock freshman Sarah Daniels finished 30th with a time of 18:22.4. Junior Daly Ferguson came in 40th (18:35.1), junior Sonya Butseva finished 48th (18:39.3) and senior Sarah Riley was 83rd (19:05.3).
Patriot High School sophomore Rachel McArthur won the individual competition with a time of 17:16.
The Bruins celebrated Thanksgiving in the afternoon before taking off for North Carolina.
"The experience was great," Murphy wrote. "Every opportunity my team and I get, I try to make the most of it and take in everything --- to learn from it! Although our boys' team lost by one point, I was still so proud of them because they gave it their all and performed really well. It was amazing experiencing our girls' third-place [finish] because we are a young team and didn't expect to place as high as we did."
The Lake Braddock boys' team captured the VHSL 6A state championship on Nov. 15 at Great Meadow. Corbett and Monogue led the way for the Bruins, finishing first and second, respectively. The team also won Conference 7 and 6A North region titles during the season.
The girls' team finished state runner-up behind Oakton, which captured its second straight title. Murphy placed second among individuals behind Patriot's McArthur. Lake Braddock also took home the Conference 7 championship.