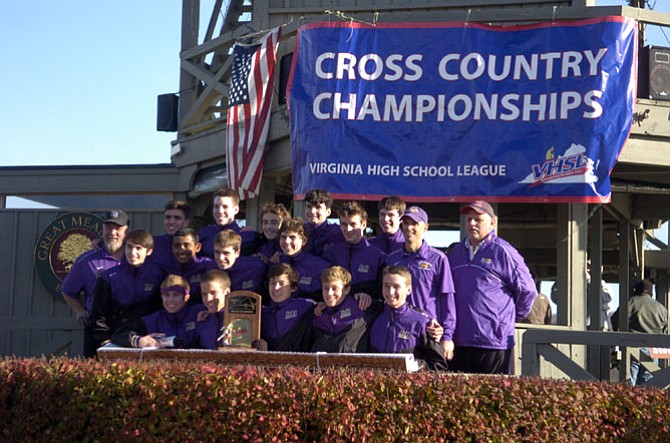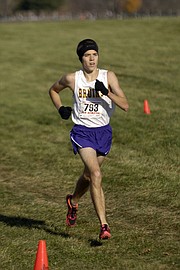 In search of his first cross country state championship, Lake Braddock senior Alex Corbett entered Saturday's state meet as Group 6A's best runner on its best team.
In 2013, Corbett finished runner-up in the individual competition while the Bruins placed second in the team standings, finishing a mere two points behind Chantilly. This year, Corbett and the Lake Braddock boys' team won the Conference 7 and 6A North region races and were favored to win it all at states.
CORBETT, however, didn't find comfort in lofty expectations or positive prognostication.
"Over my high school career, I'm kind of used to being the underdog," Corbett said, "so coming in as the team and individual favorite, I actually didn't really like that that much. I just tried not to think about it."
While Corbett prefers underdog status, being the favorite Saturday didn't stop him or the Bruins from bringing home the hardware.
Corbett won the individual championship and the Lake Braddock boys' team captured their first state title since 1987 with a dominant performance on Nov. 15 at Great Meadow.
Corbett crossed the finish line with a time of 15:08.
"I'm so proud of that kid," head coach Michael Mangan said.
Eleven seconds later, fellow Bruin Kevin Monogue placed second at 15:19. Junior Colin Schaefer also earned all-state honors for Lake Braddock, placing seventh with a time of 15:39.
Lake Braddock finished with a score of 41. West Springfield finished runner-up with a total of 92. Two-time defending state champion Chantilly placed third with a score of 105, followed by Oakton (124), Robinson (146) and Cosby (177).
"Coming in here, there was a little bit of pressure on me and my team," Corbett said. "We did everything this season we had to do to get this done. We came here to do business and we got it done."
Lake Braddock junior Ben Fogg finished 18th with a time of16:10, and sophomore Evan Chase was 28th (16:24).
"One of the last things we talked about [prior to the race] was, this is business," Mangan said. "We have done all our investing, we picked all the right stocks, we think, we've done all that and now it's time to cash in on our investment. This is just business."
One year after falling two points shy of a title, the Bruins took pair of business, capturing the second boys' team state championship in program history.
"We waited 365 days," Mangan said, "to fix what happened last year."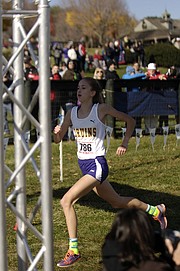 THE LAKE BRADDOCK GIRLS' TEAM finished runner-up behind Oakton, which repeated as state champs.
Oakton finished with a score of 44, followed by Lake Braddock (58), Madison (83), Patriot (96), Ocean Lakes (164), Cosby (184), West Springfield (185), Robinson (187), Forest Park (256), Stafford (258), Western Branch (262) and Tallwood (293).
"We ran lights out," Mangan said, "Oakton was just really good today."
Lake Braddock sophomore Kate Murphy placed second with a time of 17:54, finishing 11 seconds behind Patriot sophomore and state champion Rachel McArthur (17:43).
"We went out in the [first] mile pretty fast," Murphy said. "I felt good [after the first] mile and I was like, why not go for it? There's nothing stopping me."
Murphy made a name for herself as a freshman during track season, but needed some work to be a successful cross country runner, Mangan said. After recording a time of 20:10 at the 2013 state cross country meet, Murphy shaved 2 minutes, 16 seconds as a sophomore.
"She really became a player in track, but cross country is different," Mangan said. "We knew she's good, but it took a little while for her to realize how you do this. ... She's done a great job of learning."
Lake Braddock junior Daly Ferguson placed seventh with a time of 18:25, earning all-state honors. Just two years earlier, Ferguson was struggling as a ninth-grader. She ran the slowest time of all Lake Braddock freshmen at the 2012 Monroe Parker Invitational at Burke Lake Park.
"She was not good," Mangan said. "She has made herself into a first-team all-state kid. She has no extreme talent, [but] she has ... toughness. ... [I'm] so proud of what she did. That's just phenomenal.
"... As a freshman, she was horrible, to the point that her mom even told her it was OK if she didn't want to do it anymore."
Lake Braddock freshman Sarah Daniels finished 17th (18:49), junior Sonya Butseva finished 19th (19:00) and senior Sarah Riley took 20th (19:03).
Next up for Bruin harriers is the Nike Southeast regional meet on Nov. 29 in Cary, N.C.