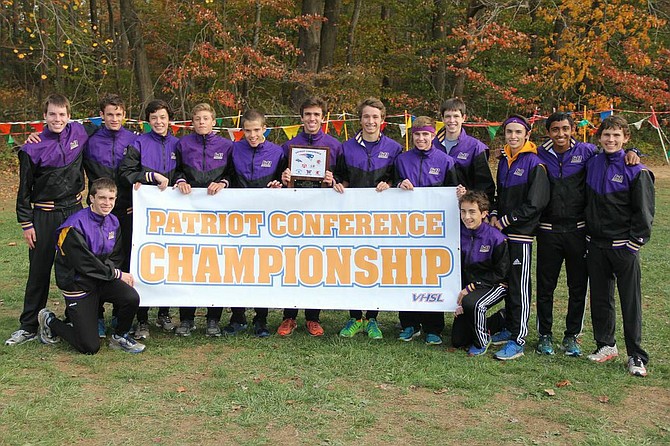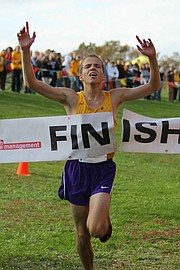 The smile on Alex Corbett's face was never-ending in the figurative sense.
The senior's place in Lake Braddock history, however, is permanent.
Corbett became the first Lake Braddock boys' harrier to break 15 minutes, turning in a time of 14:47 at the Conference 7 championship meet on Oct. 30 at Burke Lake Park. Corbett's effort secured him the individual conference title and helped the Bruins win the team championship, as well.
Corbett, who finished state runner-up in 6A last year, broke the previous school record of 15:03 by 16 seconds.
"I came here with a goal to break the school record and the 15-minute barrier," Corbett said. "When I came down the straightaway, I was pleasantly surprised [by the time]. I was really happy with today's performance. … I don't think it's totally hit me yet, but it's pretty hard to keep the smile off my face."
Corbett's time was the 11th-fastest in the history of the Burke Lake Park course.
"That kid has worked so hard for four years," Lake Braddock coach Michael Mangan said. "It's awesome to get to see him have his moment."
Corbett wasn't the only Bruin to turn in a stellar performance. Colin Schaefer, a junior, and Kevin Monogue, a senior, finished second and third, respectively, and each broke the previous school record of 15:03. Schaefer finished in 15 minutes, and Monogue turned in a time of 15:02.
"We talk about it as coaches all the time: I can't believe we've never had a boy break 15 before," Mangan said. "To get one, and almost two and almost three on the same day, [it is] pretty phenomenal."
Lake Braddock, which finished state runner-up in 2013, placed first with a team score of 22. Each of the Bruins' five point-scoring harriers placed in the top 10, and the team had seven runners finish in the top 13.
Ben Fogg placed sixth for Lake Braddock with a time of 15:21. Cavanaugh McGaw finished 10th (15:50), Evan Chase came in 12th (15:55) and Tommy McArdle finished 13th (15:57).
West Springfield finished runner-up with a score of 58. Woodson (96) and T.C. Williams (107) also earned regional berths.
The 6A North region meet will be held at 3:15 p.m. today at Burke Lake Park.
The 6A state meet will be held Saturday, Nov. 15 at Great Meadow.