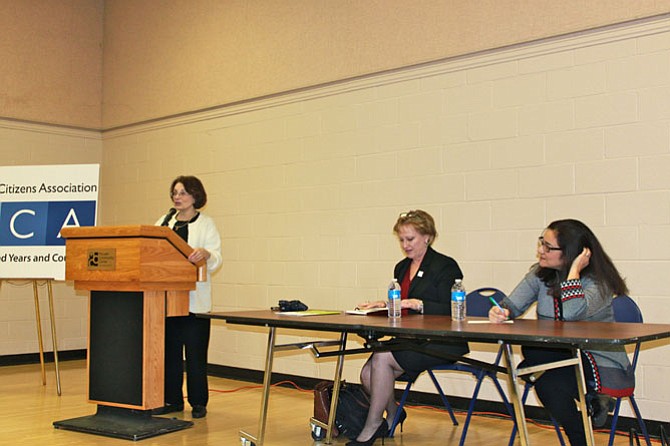 Dressed in a black skirt suit and a maroon blouse, Dr. Karen Garza was ready to take on questions and comments from concerned area residents.
At the last event of McLean Citizens Association, the Fairfax County Public Schools superintendent was invited to talk to residents about pressing education matters like overcrowded classrooms and budget concerns at the McLean Community Center on Dec. 1.
"We tried to have Dr. Garza come last year, but the weather stopped us," said MCA President Sally Horn.
She thanked Louise Epstein, the vice president of the youth and education committee for organizing the event.
"Since Dr. Garza has arrived, a lot of the things that the youth and education committee have focused on have come to fruition," said Epstein, referencing full-day Mondays and later high school start times.
What has not been solved, however, are overcrowded classrooms. And Dr. Garza knows it.
"It's not an issue throughout the system," she said. "It's in pockets."
She said that she carries a binder as "homework" to know which schools need to be looked at closer for that problem.
As the 10th largest school district in the nation - and growing - she said that false enrollment projections could lead to having to take out staff in the middle of the year, which could be disruptive.
"Our budget it too tight these days to not do that," she said.
Animesh Gupta, MCA member, asked what the relationship was between FCPS and the state and county government for the budget.
"We get about 20 percent of our funding from the state, but a large share comes from the county government," said Garza.
She noted that the state does not fund all of the mandates it imposes, which also creates problems in the budget.
"If you ask our principals, you'll hear that we get what we need, but we always need more."
The severe shortfalls in the budget have caused FCPS to increase class sizes three times over the last few years. The problem may get worse, still. She said fiscal year 2017's budget is projected to be worse than the cuts made for the current budget, mostly because the school system has nothing left to cut.
Last year, 731 positions were cut from the budget. Even more, FCPS has one of the lowest averages for teacher pay in the state, despite its high standards. Garza said it would be a "crying shame" if the system became the lowest paying school in the state.
"Teacher salaries are very important to me," she said. "We've got to turn the tide on that."
Just last year, she said she knew of five principals who left for neighboring school districts to chase higher pay.