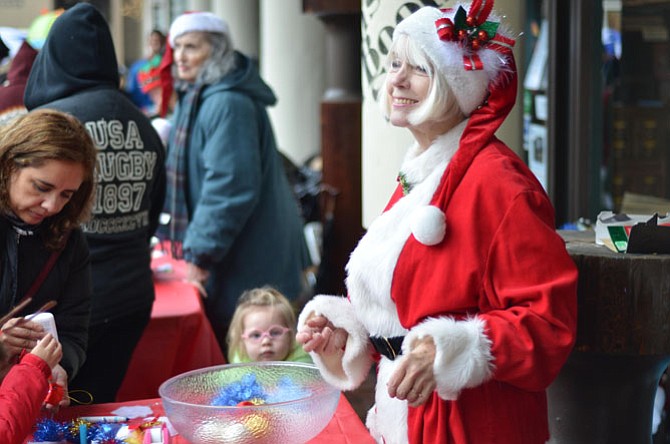 Umbrellas and rain gear were all the fashion on Saturday, Dec. 6. Despite wet weather, parents and children still waited by Lake Anne Plaza in Reston for the visit by Santa Claus. Two events were being held in conjunction with each other, one the reception at Lake Anne Reston Community Center for the Gifts from the HeART Exhibit. The second event was the annual "Jingle on Lake Anne Plaza."
Reston resident Patricia McIntyre helped operate a crafts table with friend Joyce Duke. McIntyre is the owner and director of the Reston Art Gallery & Studios, also located at Lake Anne Plaza. "I have spent time watching the children grow up and bring their own children here," said McIntyre. Although the pet farm and music entertainment were canceled due to rainfall, children still enjoyed working at the craft table and welcoming the visit by Santa Claus.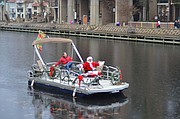 Similar to previous years, Santa visited Lake Anne Plaza via a barge piloted by Reston Association president Ken Knueven. This year was Knueven's second time captaining the barge for the "Jingle on Lake Anne Plaza" event. "I am flattered to do this, it is a lot of fun," said Knueven. "Reston is about tradition, and Lake Anne is where you can find a lot of Reston's heritage." In 2015, redevelopment construction is expected to begin at Lake Anne Plaza. The interior of Lake Anne Plaza has been designated a historic district and is not a part of the redevelopment, although nearby sections of the current parking lot and several buildings not connected to the interior are included.
AS SANTA ARRIVED he was welcomed with cheers by both children and parents. He then entered Reston's Used Book Shop to greet children and take photos. Reston's Used Book Shop has serviced Reston since 1978, and owners Bud and Susan Burwell create a literary living room in the shop for readers of all ages. "The turnout for this year was better than expected," said Bud Burwell.
"It is a great event, even though the weather is not so nice," said Paul Palmisciano, a resident of Fairfax. Palmisciano attended the event with his wife and family. The Reston Community Center Holiday Gift Shopping Event on Saturday, Dec. 6, was a one-day event offering visitors the chance to see tables of original artwork that included ornaments, small and large paintings, notecards, textiles, pottery, sculpture, fused glass and jewelry. One of the many artists was Reston artist Lassie Corbett who brought a selection of watercolors for sale.
Participating artists in the Gifts from the HeART Exhibit donate ten percent of their proceeds from sales during the Holiday Gift Shopping Event and throughout the months of December and January to help Cornerstones continue their work. This includes operation of the Embry Rucker Community Shelter, the Laurel Learning Center and their Community Services Outreach, which provides job counseling, emergency food, and youth programs. Another artist in the show was Fairfax resident Stephanie Gleichsner who brought a display of pet portrait cards with images she had drawn. "This is my first year in this event," said Gleichsner, who has previously sold her work in the outdoor plaza at Lake Anne.
Katie Jones, Executive Director of Reston Museum and South Lakes High School alumna applauded the work by local businesses at Lake Anne Plaza to continue the "Jingle on Lake Anne Plaza." "I think it is a wonderful tradition, it is a wonderful, family oriented event," said Jones. The Reston Historic Trust (RHT) operates the Reston Museum & Shop located at Lake Anne Plaza which offers community exhibits, archives, walking tours, and public events including the annual Home Tour and annual Founder's Day. In April this year over 1,500 persons crowded the Lake Anne-Washington Plaza for accolades from Virginia elected officials for the 50th celebration of the founding of Reston.
SATURDAY, DEC. 20 Reston Association's Pedestrian and Bicycle Committee will hold a bike tour around Reston to see holiday lights. The route includes North Reston paths and secondary roads. The ride will be canceled if there is rain/ice/snow or temperatures are below 35F. Riders are required to have a front light. Helmets are strongly recommended and required if under 15 years old. The starting point will be Lake Anne Plaza parking lot.