Instead of a bus, Mount Vernon District Supervisor Gerry Hyland took community members on a virtual smart car tour this year at the district's 27th annual town hall.
Other than a slight change in name, the tour continued its tradition of giving a glimpse on what is going on in the area. The virtual tour took town hall attendees through the Mount Vernon District, giving them an update on major development projects.
The tour began with a look at the Mount Vernon Hospital expansion plan and Sherwood Hall Lane restriping, which Hyland said will be discussed at a town meeting in March or April.
Hyland also discussed the environmental impact study of Dyke Marsh. The public will have an opportunity to comment on this at a meeting on Feb. 12 at 6:30 at Indigo Landing.
According to Hyland's presentation, the Huntington Area Transportation Study will begin soon, and will look for ways to minimize traffic from Telegraph Road to George Washington Parkway.
Hyland's tour included a stop at the future site of The View at Huntington, which will include a 390-unit multifamily residential development, an office building of five stories and 260,000 square feet, and a hotel with 200 rooms.
Residents are still divided over the possibility of a Sunoco Station at the corner of Huntington Avenue and Richmond Highway, something Hyland addressed on his virtual tour.
The Mount Vernon Council of Civic Organizations is opposed to Sunoco building a station at this site, where an old gas station was previously located.
Fairfax County Board of Supervisors Chairman Sharon Bulova also spoke at the town hall, looking back at successes of 2013 and upcoming budget challenges.
"I would say we've got a bit of a mixed bag here," Bulova said of the economy.
County executive Ed Long addressed the economic challenges facing the county. The advertised budget will be released to the public on Feb. 25, and the first public hearing will take place April 8.
Long said that there is a lot of revitalization going on in Fairfax County, and he is cautiously optimistic that investment will be reflected in FY 17.
According to Long, county and school facilities cannot be ignored, and future funding for schools will be considered.

"What we put into the budget is sustainable," Long said.
The town hall meeting also included speeches by Fairfax County Superintendent Karen Garza and Mount Vernon District school board member Dan Storck.
Photo Gallery
Hyland Leads Annual 'Tour'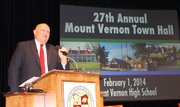 Click Photo for Flash