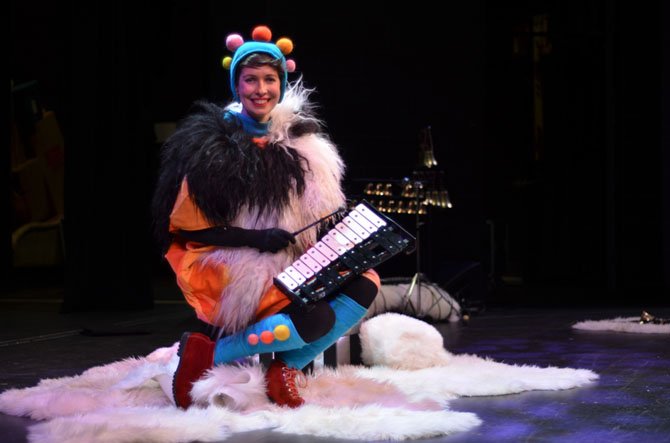 "I am Elska, and not too long ago, I discovered a newly formed iceberg." This was the opening line of performer Shelley Wollert in her production of "Elska" which was presented at the Alden Theatre at McLean Community Center.
Awarded a Silver Medal by Parents' Choice and a 2012 NAPPA Honor (National Parenting Publication Awards) for the album "Middle of Nowhere," Wollert's production was inspired by trips taken with her life partner Allen Farmelo to Iceland. "We just thought it [the Arctic] was the perfect spot to place a fictional world for children," said Wollert.
Daniel Manchester and wife and children drove in from Arlington to see the "Elska" production. "We knew the music and saw the videos on YouTube so seeing the play at the Alden was a no-brainer," said Manchester. "I thought it was clever to combine both the storytelling and the music," said Mary Manchester.
"We came back from Iceland in December," said Wollert. "We have been to Iceland six times over the past three years." The production includes music, storytelling, and visual illustrations. "I see this as the best way to combine all my talents," said Wollert. "The sound is so unique as we have a lot of electronic elements… We use electronic synthesizers and pair that with handbells."
"Elska" launched in 2012, and Wollert and Farmelo are making a new music album that will be released later this year. "I had been teaching children in my early twenties, so I loved performing before kids," said Wollert. Wollert had previously explored performing alternative country music before a visit to Iceland led her to pursue children's music for the "Elska" project.
"My course of creative life changed completely by my visits to Iceland. We were completely inspired by the landscapes and the people," said Wollert.
Wollert was impressed by the reception at McLean Community Center's Alden Theatre. "This theatre, staff and crew are so professional. The audience are so welcoming and it made me feel right at home."
After the production was completed, Wollert went outside to the theatre lobby to greet and speak with members of the audience. The family audience of parents and young children was enchanted by Wollert's confident-yet-tender voice as she sang songs including "Artic Fox" and "Midnight Sun in the Arctic." The production was poetry in motion, and had a charming feel reminiscent of "Mister Rogers Neighborhood" or "Sesame Street." While the theme was Icelandic, the production included some sweet absurdities including a story and song of a land of lost socks.
Assisting with percussion instruments was Brooklyn based classical composer and performer Lucas Segall. Robert Ames Alden, McLean community leader and former Washington Post editor, attended the production along with his wife. "It was a delightful show," said Alden.
To learn more about Alden Theatre and upcoming productions, visit www.aldentheatre.org.