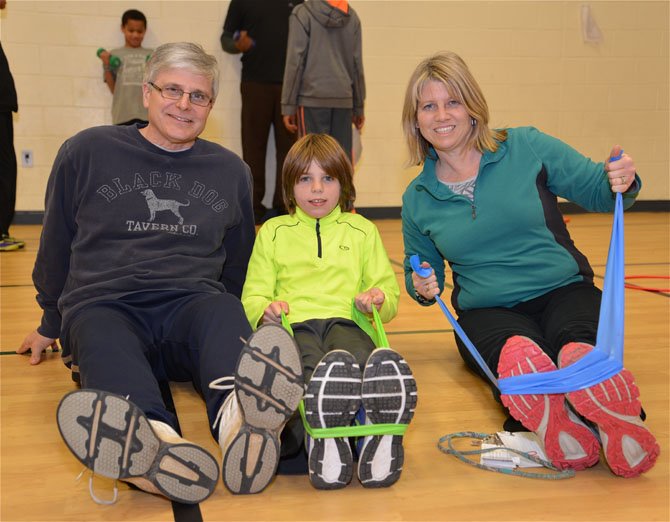 Family Fitness Night at Lake Anne Elementary School (LAES) in Reston on Thursday, Feb. 6, meant lots of family fun, as well as the opportunity for parents to spend a little quality time with their children getting some health and wellness tips, and joining them in completing the more than thirty exercise challenges set up for them in the school's gym.
Principal Brendan Menuey was on hand to greet his young charges and their families. At the check in desks the attendees received maps of the activities, instructions on how many repetitions were required at each exercise station, and a checklist for each student and adult to attest to having completed the required activity in order to receive a certificate of completion.
One of LAES's Physical Education teachers, Bruce Bentley, played host in the vendor and information rooms, where the youngsters and their guests enjoyed fresh fruit cups while meeting with health and fitness professionals like the representatives of Fitness Evolution, or Dr. Calkins from Sunrise Orthodontics. Also on hand in the vendor room was fourth grade teacher Tom Crotty, a 30 year LAES veteran. For this evening, Crotty was utilizing his extensive teaching experience to educate his audience on the benefits of mountain biking and on the building and maintenance of sustainable biking trails through MORE Bike Club in which Crotty is an active member.
The school's other PE teacher, Teri Haskell, patrolled the exercise stations in the gym, demonstrating some of the fitness challenges. One minute she was illustrating proper techniques on stability balls, the next she could be seen helping a young athlete reach a bar to perform "as many pull ups as you can!" The activities included jumping rope, jumping jacks, squats, bicep curls and lateral lifts with bands, and four runs through a set of agility rings.
Considering that attendance at the Family Fitness Night was not mandatory, there was quite an impressive crowd gathered for the evening event.