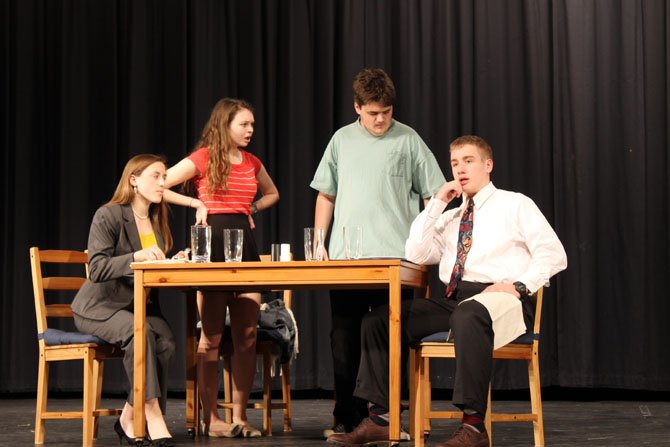 After West Springfield High School won the Virginia High School League district, regional and state one-act contests last year with the play "The Other Room" under the leadership of Bernie DeLeo, it became clear to the drama director that he wanted to write a play that demonstrated a less tragic side to autism.
"Sure, I loved that people gasped and cried at the end of the play - that's what you want as a director, for the play to evoke a visceral, emotional response from the audience. But it left people with the feeling ultimately that to live with autism is a sad and tragic thing - whereas in my experience, it has been anything but that. It's not without challenges, but more often than not, life with my son Charlie is quite funny," DeLeo said.
In summer 2013, DeLeo wrote "Nerdicus (My Brother with Autism)," and on Feb. 6, the play won the VHSL 6A North Regional One-Act Championship.
ACCORDING TO DELEO, the play is 90 percent autobiographical.
"It's really about my daughter Sophie, who is two years younger and had to attend high school with Charlie. The play examines how having a sibling with a disability affects the other sibling who does not. Autism is a social disorder, in which most autistics have little clue about socially appropriate behaviors; and my son had some pretty eccentric behaviors that drove his sister, a typical, easily-embarrassed high school girl, crazy," DeLeo said.
DeLeo cast senior Austin Morrison in the role of Eddie, based off of his son Charlie. DeLeo said he wrote the lead with Austin in mind.
"Austin is on the autism spectrum and he's been taking drama classes since middle school. I'd cast him in all of the plays last year because drama had been an appropriate social outlet for my son - and I was determined to include Austin to give him that opportunity as well. It's Austin's senior year now, and he'd never had a lead - so I wanted him to go out with a bang. He's very similar to my own son in many regards, and he's doing a terrifically funny job. There's a movement these days to cast people with disabilities in roles that require characters to have disabilities; as a parent of a child with a documented disability, I decided I need to put my money where my mouth was - and I'm so proud of Austin," DeLeo said.
Morrison said he enjoys playing the role of Eddie, and thinks he shares some similarities with the character.
"I felt like I could relate to him," Morrison said. "Except I would not wear Nerdicus armor and a fake sword to school, especially not on pajama day."
Morrison is referring to a part in the play where Eddie arrives dressed in ancient Roman armor on pajama day, one of the several scenes in the play taken directly from DeLeo's personal experiences.
"The opening scene – where Charlie went to the bus stop in a warrior outfit and having imaginary battles with invisible armies – real life (and it drove Sophie crazy). They were both overlapping in high school – as in the play – and my daughter did indeed avoid him in the hallways," DeLeo said. "Many of the arguments and scenes with the family came right from my home."
Morrison received the Outstanding Actor award at the regional festival on Feb. 8, and received a standing ovation from the crowd.
"That was truly rewarding – and just proved the point of the play itself: students with autism can perform just as well as their peers, given the opportunity. Thanks to my experience with my own son, I was able to see past Austin's disability to recognize his capabilities, and that might not have happened at another school," DeLeo said.
Junior Bonnie McClellan, who plays Eddie's sister Rachel in the play, said she was a little nervous portraying a character based off DeLeo's daughter Sophie.
"I didn't want to say anything not the way his daughter would say," McClellan said. "I wasn't sure if I was going to be offending his daughter by being too headstrong. She is very stubborn and gets embarrassed by Eddie really easily."
Senior Elizabeth Barto, who played Rachel and Eddie's mother in the play, shared some of the same feelings.
"Initially it was a little bizarre - the concept of 'Oh you guys are going to play out my life, enjoy.' There's a little bit more pressure because you have the director and the author right there," Barto said. "I was terrified of playing his wife really mean."
DeLeo said his family was very supportive of the play. Some of the cast members even met a couple members of his family after one of the performances.
"Had any of them objected, I probably would have bailed on it. I was most worried about my daughter's reaction, that she might get angry seeing herself portrayed honestly, warts and all, onstage. I was very nervous when she read it, and pleasantly surprised when she laughed and said she liked it. She even suggested a couple of incidents that I forgot to include. My wife liked it very much. And Charlie enjoyed it too. He especially liked that I gave him a girlfriend in the play," DeLeo said.
Senior Josh Elliot played Rachel and Eddie's father in the play, which he said gave him a new perspective on his drama teacher.
"I played the dad, which is weird, because I basically played Mr. DeLeo," Elliot said. "The dad is kind of the goofball. I see him in a whole new light."
WEST SPRINGFIELD will continue its performance of "Neridcus" at the state finals at the Piedmont Valley Community College in Charlottesville on March 8, the second year in a row the school is attending and performing another play about autism.