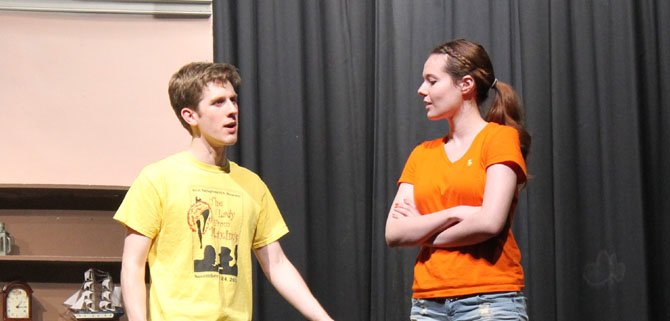 The West Springfield High School drama department is hard at work preparing for their spring musical, "The Pajama Game," which lead cast member and junior Barbara Lawson says is a lively show with talented performers.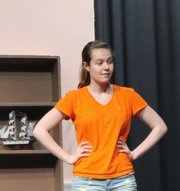 "There are a lot of popular songs in it that you may not know are in the musical but that you've heard before," Lawson said. "It'll be a really fun show."
Lawson is playing Catherine "Babe" Williams, who leads the Union Grievance Committee at a pajama factory. A relationship blossoms between her and Sid Sorokin, the factory's new superintendent, played by junior Will Shipley.
"The Pajama Game," based on the book "7 1/2 Cents" by Richard Bissell, is Tony award-winning musical about workers demanding a seven-and-a-half cent raise at a pajama factory. It's filled with festive song and dance numbers, including "Steam Heat" and "Hernando's Hideaway," that West Springfield cast members say the audience will enjoy.
"It's cheesy, but what musical isn't? It's really a lot of fun," Shipley said.
Lawson describes her character as a woman who isn't looking for a guy and who doesn't let her guard down. She's different from the other women, she says.
"She's not just a pretty, innocent, naive girl. She's smart and independent. I think that sets it apart from other musicals," Lawson said.
Gladys Hotchkiss is played by senior Ellen Abood, who also choreographed dance for the musical. This is her fourth musical at West Springfield, and she says it'll be an exciting one.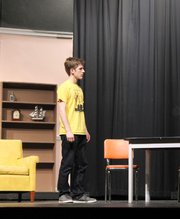 "I love this musical because there's a lot of dance, and I love dance," Abood said. "The fifties are a fun time. The audience is going to have a blast."
Bernie DeLeo, the West Springfield Drama director who led the school to win third place at the Virginia state championships this March with his play "Nerdicus (My Brother with Autism,)" chose "The Pajama Game" as the spring musical because of its great music. He first saw the musical as a student in high school, and has loved it ever since.
"I'm a sucker for the golden-age musicals," DeLeo said.
The cast is a talented group of students, DeLeo says. Lawson, Abood and Shipley all plan on pursuing theater in college, and a great deal of that, they say, is because DeLeo encouraged them to follow their dreams.
"Mr. DeLeo and Mr. Brandt [the choral director] are very talented and knowledgeable. They take time to work specifically with a person if they need it and they do a lot of coaching. If you ask for help they will give it to you," Lawson said.
The cast has been practicing over 15 hours per week, in addition to practicing lines at home, and is looking forward to sharing their fun with audiences.
"If you want to have a fun time, you should come to this musical," Shipley said.
Performances are May 1-3 at 7 p.m. and May 4 at 2 p.m. at West Springfield High School. Tickets are $10 and can be purchased at the box office.