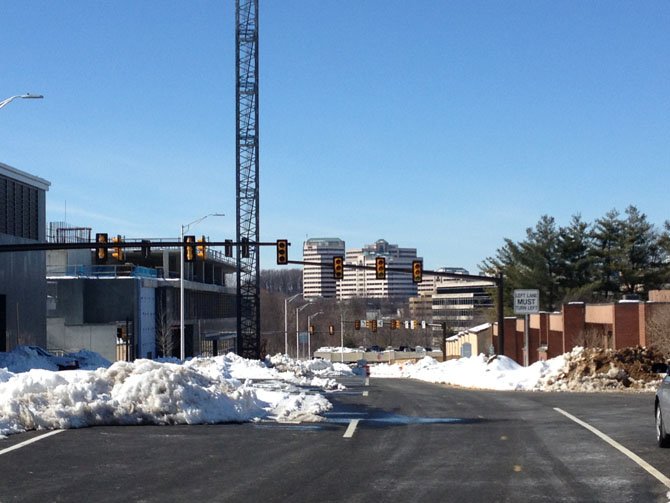 The Fairfax County Board of Supervisors approved the Comprehensive Reston Master Plan on Tuesday, Feb. 12, adopting the vision for Reston's growth for the next 50 years. Supervisor Cathy Hudgins (D-Hunter Mill) motioned for the Board to approve the revised plan's vision for Reston with founder Bob Simon's original 1962 goals in mind.
"Reston will be a complete community designed for the 21st century with choices in jobs, housing and lifestyle for an increasingly diverse population," said Hudgins in her motion.
The plan calls for 22,000 new residential units and the creation of three new village centers around the Metro stations at Wiehle-Reston East, Reston Town Center North, and Herndon. The board heard testimony from Reston residents on Jan. 28 with fears about congestion, provision of adequate parks and recreation facilities, construction of mixed-use transit station areas, and the role of the Reston Association.
BEFORE THEIR APPROVAL of the Master Plan on Tuesday, it was revised to include crossings from North to South Reston, open space and parks in developing areas, and continued involvement of the Reston Association and Reston Town Center Association during development.
The Board also approved a plan amendment that called for mixed-use development close to the transit stations, recommendations for a multi-mode transit system, environmental stewardship, and urban parks and recreation facilities. Hudgins included recommendations in the amendment for special studies related to urban design, transportation funding, and an enhanced street network, which Hudgins said will help during implementation.
Though the majority of the board approved, two supervisors voted against it. Supervisor Pat Herrity (R-Springfield) viewed the lack of secured funds from developers as an obstacle that he feared would pass the financial burden on to future Reston residents. "I think we're headed down the same path as we did with Tysons where we have huge unfunded transportation requirements," said Herrity.
Supervisor Michael Frey (R-Sully) criticized the plan's lack of inclusion for residents of other parts of Northern Virginia, such as his district, which includes Centreville, Chantilly and Oakton and edges up to Prince William County.
Hudgins responded to both supervisors by noting Reston's paid-off debts for past projects funded by advances from developers, such as the extension of Fairfax County Parkway, and the plan's vision to create a transit-oriented community that eventually may attract new residents from other districts.

The Reston master Plan Special Study Task Force began working on the Master Plan in Winter 2009, led by longtime Reston resident Patricia Nicoson, who also serves as president of the Dulles Corridor Rail Association. The 25-member team was divided into three subcommittees focused on development surrounding each of the three new Silver Line stations. Nicoson appointed at least one developer representative from companies such as Boston Properties, JBG, and Maguire Woods, as well as volunteer residents from around Reston to each subcommittee.

"The idea was to involve the community in the planning effort. Staff had collected a lot of information for the three transit stations and the land use designations, zoning categories, and demographic characteristics," said Nicoson. "We used that list of ideas and brainstormed what we would all like to see at each transit area."
Beginning Summer 2010, the task force established the Vision Committee, led by urban designer John Carter and co-chair Kohann Williams, to look at a broader 50-year picture for Reston. The Vision Committee's reports provided the Task Force with broader picture recommendation and heavily influenced the text of the amendment adopted on Feb. 12. The Task Force also established a Steering Committee made up of each subcommittee's chairs and six citizen representatives to research how to implement the plan in a way that would promote mixed-use development.
ONE OF THE OUTCOMES of the Steering Committee's research was the Master Plan's adoption of a zoning plan for and 50-50 percent proportion of residential to non-residential zoning within the first quarter-mile of each transit station. The second quarter-mile around each new village center calls for a 75-25 percent proportion of residential to non-residential zoning. Reston currently has about 2.5 jobs for every housing unit, according to Nicoson. "When we complete the plan we want to have the same ratio," said Nicoson.
With a plan of such grand scale now approved, Reston awaits a major change in its landscape. "We hope it will look a lot like Town Center, only better, with a more varied skyline and streetscape."