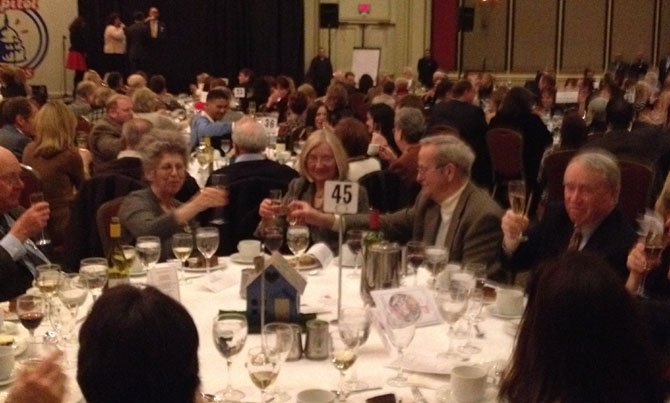 More than 600 Reston residents came out to the 31st Annual Capitol Steps Benefit Performance at the Hyatt Regency Reston to raise money for Cornerstones' affordable housing programs. The event, held on Sunday, Feb. 16 and sponsored by Long and Foster Real Estate, raised a total of $152,605 for Cornerstones.
The singing political satire group Capitol Steps headlined the event for the 31st year in a row, telling jokes about subjects such as the Tea Party and the Oct. 2013 government shutdown, and making unlikely comparisons of President Obama to Toronto mayor Rob Ford. The group also drew laughs with political variations of songs such as "Under The Sea" and "Every Breath You Take" by tying in themes such as the Bin Laden assassination and NSA surveillance.
"We've done this for 31 years, and we ourselves have only been around for 32 years, so that tells you something. The people here are doing great things and we're so proud that we've been able to be supporting them for 31 years," said founding member and producer Elaina Newport.
The evening began with a silent auction of more than 50 items, dinner invitations, and gift packages donated by Reston businesses and politicians. Some notable offerings included a lunch with Supervisor Cathy Hudgins (D- Hunter Mill), a six-person wine dinner at Il Fornaio, and a beautiful "Veggie Quilt" designed by quilters Ruth Grubb, Anita Barnes-Lowen and Connie Wright-Zink.
Delegate Kenneth Plum (D-36) took a break from Virginia's General Assembly session in Richmond to help greet and draw attendees to the silent auction.
Supervisor Hudgins was proud to see all 60 ten-person tables filled on a Sunday evening.
"As you see from this huge crowd, I think it speaks to the willing heart of Reston," said Hudgins. "What's really neat is we fill this ballroom up over and over. I'm glad to know that we're a community that really responds to the needs of everyone who lives here."
Guests also toasted to former Cornerstones board chairman Stuart Rakoff, who passed away in January after a hard-fought battle with Amyotrophic Lateral Sclerosis (ALS). Jill Norcross, who replaced the late Rakoff on Feb. 5, thanked the audience for their contributions and support.
"This yearly event for Cornerstones really raises awareness and funding for affordable housing and all of our programs," said Susan Garvey, senior director of donor relations for Cornerstones.