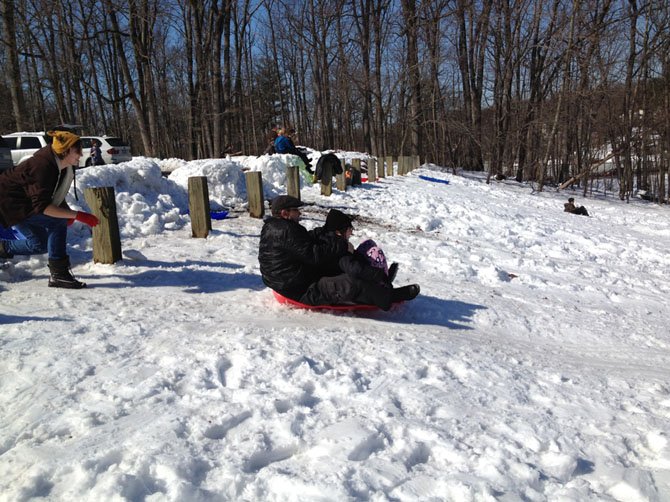 Northern Virginia residents took shelter from a snow storm that began the evening of Wednesday, Feb. 12 and lasted until the Thursday night. Fairfax County felt the lasting effects well into the weekend, with schools unable to clear parking lots and county offices closed through the weekend.
Governor Terry McAuliffe declared a state of emergency Tuesday, Feb. 11, giving state authorities and utility companies time to prepare for the storm.
"Just as state government is preparing for this storm, I urge every Virginian to take proper preparations. Prepare to limit unnecessary travel during the storm, have emergency supplies on hand and be ready in the event that power in your area goes out," said McAuliffe in a statement.

The Virginia Department of Transportation (VDOT) equipped around 4,000 plows to clean up the roads starting around midnight after the storm began. Dominion Power, which serves Virginia and North Carolina, called in 3,450 additional utility personnel from as far as Oklahoma and Louisiana to help restore power to areas affected by the snow. Many of them were sent to areas further south such as South Carolina and Georgia by Thursday afternoon.
"We feel blessed that we have escaped the wrath of this storm," said Chuck Penn, a spokesperson for Dominion Power Resources.

The only major outage reported by Dominion occurred from a Wednesday evening accident at the intersection of Tyndale Street and Great Falls Road that knocked out power to 2,000 customers. Dominion workers restored power after about two hours later that evening.
Area leaders did their best to keep citizens informed of unsafe driving conditions, weather updates and safety tips. In Herndon, Mayor Lisa Merkel provided updates through social media throughout the day on Thursday responding to readers' comments about which neighborhoods and roads remained unplowed. Dranesville Supervisor John Foust also sent out emails with a link to an interactive map tracking plows in neighborhoods, as well as winter weather tips issued by Fairfax County for staying warm and snow removal.

On Wednesday evening before the storm, area residents stocked up on emergency supplies, such as ice melt, batteries, Duraflame logs, shovels, and propane. Cyndee Cannon, an employee at McLean Hardware, said that three trucks of winter weather merchandise had been unloaded and sold to customers on Wednesday.
"In case the power goes out, people are buying a lot of flashlights and batteries to get prepared, as well as water jugs in case they can't get out or get water," said Mike Cannon, store manager of McLean Hardware and Cyndee's husband. Cannon noted that an East Coast-wide ice melt shortage has left many businesses in short supply.
Shoppers on Wednesday also stocked up on sleds for their kids, foreseeing that schools would likely be closed for the rest of the week. "When I'm not working on snow days we do a lot of sledding and fort building," said McLean resident Jack Sava. "During snow days they spend four to six times as much time outdoors as they normally do during the day, which is excellent."
Around Reston, families took to the hills along Wiehle Avenue, such as the field in front of the Children's House Montessori School, to enjoy a sunny day of sledding. With some schools in Fairfax County unable to clear parking lots until Friday morning, students enjoyed two more snow days before having to make up school on President's Day the following Monday.

Fairfax County is still determining which days students will make up in school to account for lost time from snow days, having used six of them already. Virginia law requires that public schools hold instructional time for at least 180 days, or 990 hours. However, exceptions for certain makeup days have been before when the governor declared a state of emergency, as in 2010 following "Snowmageddon."