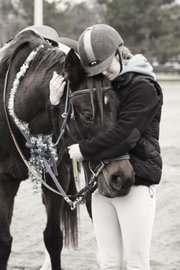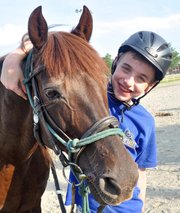 Children of all ages love horses. But keeping a horse is difficult when pasture and riding land are scarce. Here in Herndon, Frying Pan Farm Park and Spirit Open Equestrian have joined together so that children can ride and, for a short time, pretend the horses are their very own.
Spirit's horses all have very special dispositions. Students pull manes, kick ribs, yank reins, squirm around in the saddle, yell loudly, and give incorrect cues. Yet, these horses carry their young riders carefully, calmly, and patiently. The horses' movements help kids stretch and strengthen muscles, improve their coordination, and gain confidence as they master new skills. But if you ask the kids, they're just having fun. As for the horses, they look forward to treats and hugs from "their" kids and visits from the "official" Spirit mascot.
Spirit Open Equestrian Program is located at 2709 West Ox Road, Herndon.