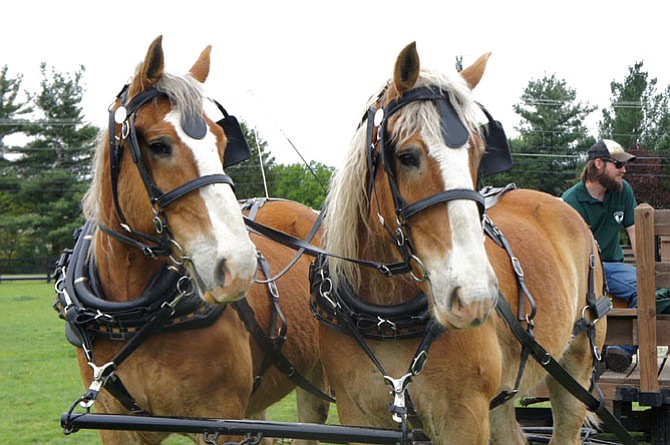 It's been more than a year and a half since Frying Pan Farm Park in Herndon had a working team of draft horses. On Sunday, April 23, the park, and the public, officially welcomed 12-year-old Charlie and 9-year-old Jeff into the fold, at a reception complete with speeches, refreshments and even wagon rides courtesy of the guests of honor.
The two blond Belgian Draft Horses had been working as a team in Ohio Amish country for the past five years, but according to Park Farm Manager Paul Nicholson, they have settled well in their new home and are "ready to meet and greet their fans."
The pair actually arrived in October of last year, but needed some adjustment time and training to handle their starring roles for the 725k visitors who enjoy the park each year.
The park's previous team had passed after years of much appreciated service and a well-deserved retirement. Their loss represented not only an emotional impact to farm staff and the public who had come to know and love them, but it also left the historic facility without a key ingredient of their mission to "preserve and interpret a 1920s through 1950s farm, agricultural process, rural community life and landscape" for the citizens and visitors of Fairfax County.
The historical period that Frying Pan brings to life was the transitional time in which tractors really began taking over the plow and field work on American farms, but the draft horse was "still very much an essential part of farming then," explained Yvonne Johnson, the park manager. "Without our own team, we were missing an important part in our work to really illustrate what life on the farm was like during that time. It's great to add Charlie and Jeff to the family and bring that piece back to the picture."
Getting the 1,700 lb. (each!) duo to their new digs and new assignment from Ohio to Virginia via upstate New York is a story in itself, but starts with the fact that their purchase was made possible by main donor Susan Becker, a long-time County Park employee, who saw on Facebook that Frying Pan was fundraising to buy a new team. Becker's contribution was recognized during the festivities by William G. Bouie, Chairman of the Fairfax County Park Authority Board and the representative for the Hunter Mill District which includes Frying Pan Farm Park.
"I had a horse of my own until about two years ago, [when he was retired]" said Becker. "Not having a horse is a great way to save money," she laughed. "It leaves you with a bit extra."
Her decision to help bring this living history back to Frying Pan was also a way to honor her mother, Martha. "I have photographs of her riding the draft horses on her family's farm in Tennessee back in the '30s. I've lost her now, but this is a beautiful way to remember her — and let everyone have a bit of a horse fix. I think everyone needs that."
The Friends of Frying Pan Park, who actually own all of the animals on the property, were also instrumental in raising funds for the transportation of the horses, training of the cart and plow driver, the purchase of their tack and accoutrements, and for putting on the reception spread at the day's event.
At last, the patience of the youngest of the attendees was rewarded. The speeches and the applause gave way to what they (and apparently quite a few of the young at heart) had been waiting for — the wagon ride. (Actually, even Jeff, with a hoof stamp or two, looked like he was ready to get his portion of the program underway.) The Friends of Frying Pan Park board members, donor Susan Becker and a few of the other dignitaries took the first go, but then children clambered aboard, and Jeff and Charlie, heads held high, did their jobs, showing visitors what life was like in the not too distant past, and bringing smiles along with the lessons.
Frying Pan Park is located at 2739 West Ox Road in Herndon. Visit their Facebook page for events and family fun activities year-round.